Best Neighborhoods in Phoenix Area 2022 [Top 10 List]
If you are looking for the inside scoop on the best neighborhoods in the Phoenix area, you're in luck. There's a colorful variety of communities and homes for even the pickiest homebuyer. Check out the top ten neighborhoods below that match your style, preferred location, and price range—or just take a visit to see for yourself!
Top 10 List of the Best Neighborhoods in the Phoenix Area


Our highly-anticipated 2022 updated list of best neighborhoods in Phoenix is finally here! In no particular order, check out our favorite neighborhoods below.
1. North Gateway
North Gateway represents Phoenix beautifully and checks all our boxes. It's located north of the 101 freeway, straddling the I-17 and continuing up to the lower border of Anthem, AZ. North Gateway offers an excellent family-focused community with shopping and dining available at Norterra as well as Happy Valley Towne Center. Ben Avery Shooting Range and Pioneer Living History Museum are also located in this area. On the eastern border of North Gateway is a portion of the Phoenix Sonoran Preserve and Dixie Mountain where biking and hiking are enjoyed on a daily basis. More spacious and less congested than the areas closer to downtown, North Gateway is one of the best neighborhoods Phoenix has to offer.
Safety: ⭐⭐⭐⭐⭐
Cited by many as the safest neighborhood in close proximity to Phoenix, North Gateway has less than one-fourth of the violent crimes as Phoenix as a whole, and one-half of the national average.1
Price Point: 💲💲💲
Median Home Value: $554,000
Location:
2. Florence, AZ
Located about 60 miles south of Phoenix and with a population of only 26,000, Florence is the most unique pick this year. It made its way onto our "Best Neighborhoods in Phoenix" radar because it appeared in the top 50 list of safest cities in the entire United States!4 Florence takes pride in the deep historic roots of their small town. Walking tours and the Historic District Home Tour are conducted throughout the year to celebrate the history of the town and share it with others. There are several parks, an aquatic center, fitness center, and senior center. Attractions in the area include the Pinal County Historical Society Museum and the Casa Grande Ruins National Monument. It's also one of the more cost-effective places for buying a house in Arizona right now, with the median home value (below) more along the trend of the national average. Florence is also where Country Thunder typically takes place!
Safety: ⭐⭐⭐⭐⭐
Florence, AZ was thirteenth on the 2022 list for top 50 safest cities in the US.4 No other Arizona cities made the cut!
Price Point: 💲💲
Median Home Value: $342,500

Location:
3. Arrowhead Ranch/Arrowhead Lakes
Located in Glendale, Arizona, Arrowhead Ranch is one of the best neighborhoods in Phoenix, containing 2,000+ homes and over 130 acres of lakes for residents to enjoy. Homeowners in the Arrowhead Lakes HOA enjoy a variety of outdoor activities including hiking, fishing, golfing, and boating—right in their backyard. 75% of homes in this HOA are on a waterfront! There are multiple parks close by as well as Arrowhead Country Club. It's adjacent to the 101 freeway, which makes it a convenient commute to other locations in the valley. In addition, it is conveniently located close to the Arrowhead Towne Center (shopping mall) and The University of Phoenix Stadium. Prices, though, have definitely skyrocketed since 2020. There used to be options for most budgets within Arrowhead Lakes, with some homes under $250K! Now most are at least $500,000.
Safety: ⭐⭐⭐⭐
In the top 30% for safety ratings in the Phoenix area.3
Price Point: 💲💲💲
Median Home Value: $527,600
Location:

4. The $1M+ Trifecta
if you have $750K-$5M+ to spend on your next home, these three neighborhoods are a great place to start: Scottsdale, Paradise Valley, and Arcadia.
I know, we cheated and gave you 3-for-1 here. 😜
Scottsdale often makes the national lists for top retirement destinations due to the beautiful climate and natural desert landscape. It's also popular for families due to the prestigious Scottsdale Unified School District and many well-designed parks. Old Town Scottsdale has both quaint walkable shopping areas and a trendy nightlife scene - who else can say that?!
Scottsdale Median Home Value: $753,500

Arcadia is known for its beautiful tree-lined streets (it was originally an orange orchard!), amazing mountain views, and convenient walkability to some of the best restaurants and shopping in the area. Enjoy a hike at Echo Canyon, munch on bruschetta boards at Postino Wine Café, or relax at Arizona Biltmore Resort and Spa.
Arcadia Median Home Value: $1.1 Million

Paradise Valley rounds out our trifecta with the highest median home price in the state - by far - and is considered the wealthiest municipality in Arizona. Known as the "Beverly Hills of the Southwest," PV doesn't disappoint when it comes to luxurious golf courses, spas, and dining. The price speaks for itself, this place really is paradise!
Paradise Valley Median Home Value: $3 Million

Price Point: 💲💲💲💲💲
for Scottsdale, Arcadia, and Paradise Valley

Safety: ⭐⭐⭐⭐
Four stars here only because each area is either bordered by areas with higher crime rates or has small pockets of areas with higher crime. But overall, these are all extremely safe picks, with many neighborhoods governed by HOAs, security teams, gated communities, neighborhood watch groups, and/or formidable private property fencing.3
5. Peoria
Considered a major suburb of Phoenix, Peoria has developed significantly over the last several years. Public parks, lots of chain restaurants and sports bars, and convenient access to the 303 and 101 freeways make it overall one of our picks for best neighborhood in Phoenix..
Price Point: 💲💲💲
Median Home Value: $465,000
Additionally, a great micro-neighborhood within Peoria is Vistancia, the #1 master-planned community in Arizona for the past 9 years according to Arizona magazine. It features different neighborhoods [The Village – for families, Trilogy – for active adults, Blackstone – for the golf fanatic, and the newly added Northpointe with beautiful mountain views and hiking access]. Median price hits a bit higher in this community, around $555,000 with some homes much pricier than that.
Safety: ⭐⭐⭐
Varies. Peoria covers a huge geographical area - from Lake Pleasant in the north all the way down to Northern Ave & the 101. Generally, the safety ratings are higher in Northern Peoria. See the map below from neighborhoodscout.com where the lighter colors indicate less crime and the darker colors indicate more crime.3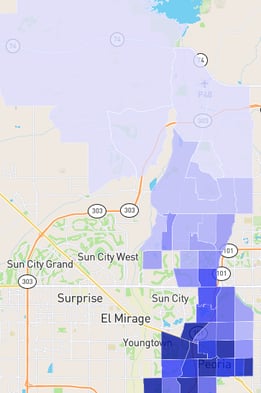 6. Surprise
West of Peoria and stretching out almost to Wittman is the increasingly popular homebuyer destination of Surprise, Arizona. It's the perfect place for those who enjoy family time, working close to home, and a variety of recreational opportunities. Surrounded by mountain parks, a gorgeous lake, and the Sonoran Desert, Surprise offers residents a great active lifestyle somewhat away from the big city. Central Phoenix is an average of 35 miles away, but if you do need to drive into the city, the picturesque views from Loop 303 or Rt 60 connecting to the I-10 and 101 loop make it a breeze. Home values in Surprise are up nearly 37% from last year, growing faster than almost any other neighborhood in the Phoenix area.
Safety: ⭐⭐⭐
Within the average-to-high range for safety ratings in the Phoenix area.3
Price Point: 💲💲
Median Home Value: $432,000
Location:

7. Phoenix
Neighborhoods within the city limits of Phoenix offer a wide variety of options for those who don't want to commit to a specific HOA or be too far out of the city's center. There are a variety of popular Phoenix neighborhoods to choose from, each with its own style of architecture and amenities. Encompassing 47 zip codes and a population of over 1.6 million, you can see that many find what they're looking for in Phoenix. Plenty of parks and hiking options, close access to freeways, a central location, and gated communities as well as independent neighborhoods make up this thriving urban environment.
The most flexible and widely varying price range of homes in AZ is found within Phoenix neighborhoods as well. At the time this was written, there were homes for sale in Phoenix as low as $180,000 and up to $3 Million. Redfin.com describes the current Phoenix, AZ market as "Very Competitive" with a score of 70/100 and where 44% of homes are selling for more than the asking price.
Safety: ⭐⭐
In a city of almost 2 million people, it makes sense that not every corner of the city is the safest. There are good and bad pockets, so a knowledgeable and local real estate agent is a must!
Price Point: 💲💲
Median Home Value: $417,000
Location:

8. Desert View
Sitting west of N. Scottsdale and north of Paradise Valley is the (somewhat!) less pricey neighborhood of Desert View. Housing and development has seen an uptick recently as it's become a more desirable location for Phoenix area residents. Beautiful mountain vistas, proximity to hike and bike in Sonoran Desert Preserve, and excellent schools are all factors boosting Desert View's popularity. The only drawback is that there aren't many amenities (like dining and shopping) in very close proximity. But not to worry - drive 15 minutes in any direction and you'll find whatever you need!
Safety: ⭐⭐⭐⭐
With crime rates 55% below the state average and a year-over-year downward trend, it's one of the safer neighborhoods to live in Arizona.
Price Point: 💲💲💲
Median Home Value: $612,500
Location:

9. Ahwatukee
Residents of Ahwatukee rave about living there, and it's easy to see why. Homes with character, nicely maintained landscaping, and a reasonable price point has put Ahwatukee on our list of best neighborhoods in Phoenix for 2022. In close proximity to Tempe and Chandler, backed up against South Mountain, and right next to the I-10, Ahwatukee really has it all. There are local eateries as well as Wild Horse Pass Casino, a movie theater, and tons of parks. The school system is excellent as well.
Safety: ⭐⭐⭐
Ahwatukee doesn't make the list for top ten safest cities in Arizona but it's grade is still quite respectable, with crime rates less than half of that of Phoenix.
Price Point: 💲💲
Median Home Value: $419,900
Location:

10. Gilbert
Gilbert's population is one of the fastest growing in the nation. Everyone wants to live in Gilbert! Whether it's because of all the green grass, the family-friendly setup, myriad of fun community events, active lifestyle support, good public schools, walkable downtown area, or affordable healthcare, we don't know.
Safety: ⭐⭐⭐
Crime statistics vary throughout Gilbert, with some pockets of higher crime. Overall, still a safe pick.5
Price Point: 💲💲💲
Median Home Value: $532,000
Location:

Regardless of the neighborhood you end up in, you can always count on a local credit union to be on your side during the home loan process. Get prequalified or chat with a mortgage specialist today if you'd like more information.
Or, to learn more, check out our other free resources on homebuying:
Sources:
1 AreaVibes https://www.areavibes.com/phoenix-az/
2 Pods https://www.pods.com/blog/2021/06/phoenix-neighborhood-guide/
3 Neighborhood Scout Safety Maps https://www.neighborhoodscout.com/az/

4 SoFi 50 Safest Cities in US https://www.sofi.com/learn/content/safest-cities-in-the-u.s./?bulletsix
5 WalletHub https://wallethub.com/edu/safest-cities-in-america/41926
6 Vistancia https://vistancia.com/
This article is intended to be a general resource only and is not intended to be nor does it constitute legal advice. Any recommendations are based on opinion only. Rates, terms and conditions are subject to change and may vary based on creditworthiness, qualifications, and collateral conditions. All loans subject to approval.