House Buying Checklist: Mortgage Documents You'll Need
Buying a home (as amazing as it is!) does involve a lot of paperwork. Some of it is required at the beginning for the preapproval, and other documents will be requested later on in the process, after you've made an offer. It helps if you know ahead of time what you'll have to provide, instead of being blindsided when your lender asks you for each item.
If you're getting ready to apply or get pre-qualified for a mortgage loan, now is the time to start gathering your needed documentation! Why?
Here's the Inside Scoop: Many mortgage loans get stretched out over the course of many weeks or months because the buyer doesn't have the needed documentation. 😱
So - let's get to it! Here's our house buying checklist of the documents you'll likely need to provide to your mortgage lender:
1. Pre-Qualification House Buying Checklist

The pre-qualification is just the first step, so you don't have to have absolutely everything at this point. Just:
1-2 months of bank statement(s) verifying down payment funds. If you need extra help finding funds for a down payment, see if you qualify for down payment assistance programs (like WISH).



1 month of paystubs verifying employment

If self-employed, gather two years of tax returns
If on fixed income, provide benefit letter/award statement


2. For The Full Mortgage Application, You'll Need
1-2 years of tax returns


1 month of most recent paystubs


1-2 years of W2s


1-2 months of all bank statements and other asset statements (investments, life insurance, income from rental property contracts, etc.)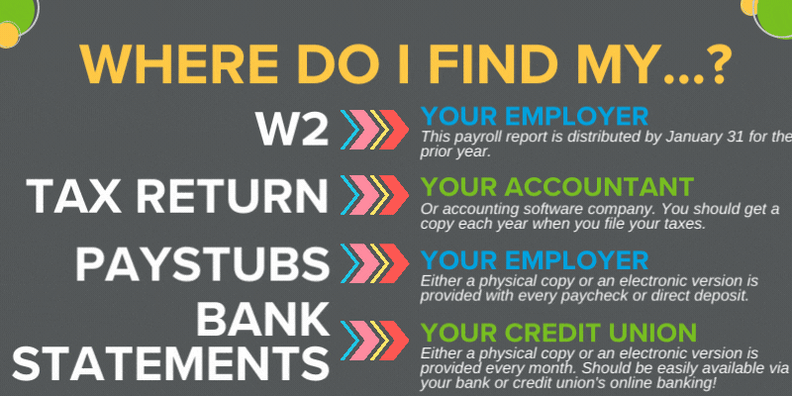 3. Other Stuff You May Need On Your House Buying Checklist
Proof of direct deposit and benefit statements/award letters for any additional income (SSI, alimony, child support, etc.)


Explanation letters (if any negative items are shown on your credit report)


Gift letters (if someone is giving you a monetary gift to contribute to your down payment)


Lease agreements (if you're planning on renting out your existing home)


Listing agreement (if selling your existing home before closing on the new home)

Homebuyer Resources
You will likely find out common misconceptions about how to buy a house, as well as buying trends in the Arizona housing market, throughout your homebuying process. If you're interested in how home loan interest rates affect your mortgage, we've got you covered there too. Our most comprehensive resource, Are You Buying A House In Arizona? eBook is available for free viewing or download as well.
Do you like the list above but want the PDF version of our House Buying Checklist: Mortgage Documents You'll Need? Click below to grab your own copy. And know that we're here whenever you're ready to start your home loan pre-approval! (It's a quick and easy online app to get started.)
This article is intended to be a general resource only and is not intended to be nor does it constitute legal advice. Any recommendations are based on opinion only. Rates, terms and conditions are subject to change and may vary based on creditworthiness, qualifications, and collateral conditions. All loans subject to approval.