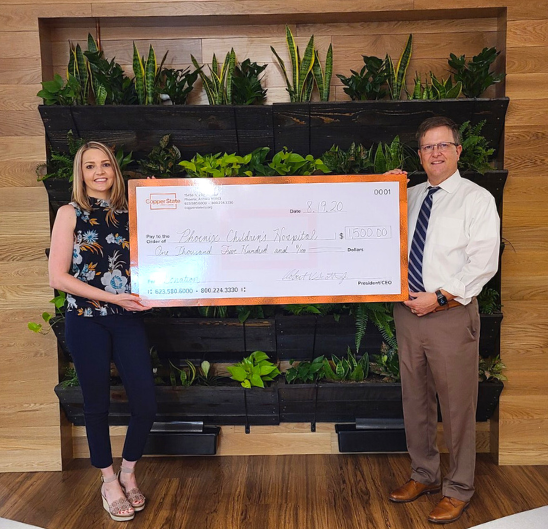 Giving Back To The Communities We Serve
Community Sponsorships
Copper State Credit Union is committed to helping out the communities we serve in the form of providing sponsorships and donations.
If you have an event you wish to be considered for a sponsorship or a donation, please read the following guidelines. If it falls within these requirements, you may then submit your request using the form below.
Guidelines
You must submit your application a minimum of 60 days prior to your event or activity.
Your event/organization must take place in one of Copper State Credit Union's branch market areas.
The event or activity must reflect the vision, mission and core values of Copper State Credit Union.


Important Information to Know Before Submitting Your Request
The event or activity must fulfill a relevant need and benefit to the community.
Only one request per organization will be considered during any 12-month period; and no more than three years in a row, so that we may lend our support to multiple organizations.
Only one request per member will be considered during any 12-month period. One person cannot make requests for multiple organizations during the same calendar year. Our focus is to assist with contributions to help organizations and communities continue to do good work. We hope to forge a partnership with many of our community leaders and volunteers. As our credit union is involved in various, different civic and community organizations, we know that many of you are also involved with multiple charitable organizations. Please choose the one that means the most to you and make your submission count.
Communication from Copper State Credit Union will be directed to the person specified within the application. This person must be an authorized representative of the organization that is seeking support.

Copper State Credit Union would love to support all requests but we have limitations. If you are asking for a specific funding, we typically do not consider the following requests:


Activities, groups or events not in a Copper State Credit Union branch community.
Administrative expenses or expenses such as a conference or travel.
Projects whose purpose are religious, legislative or political.
Events or activities that include gambling or games of choice.
Organizations that discriminate on the basis of race, gender, religion or lifestyle.
Individuals or groups fundraising for a third party.
Individual or school field trips, clubs, team activities or sport activities, including travel and competition costs.
Sponsorship of sports and related tournaments.
Projects outside of our field of membership.

Requests not submitted using the online request form will NOT be considered. Meeting this criteria does not guarantee Copper State Credit Union participation.

Application Process
Due to the high volume of requests we receive, we can only accept online applications.
The application process is easy. If your submission has principles that align with our core values and mission, simply complete the online form and submit.
Please note that it can take up to 6 weeks for us to process your request. Once your application is reviewed, we will let you know via email if it is accepted for funding.
Community Sponsorship or Donation Request