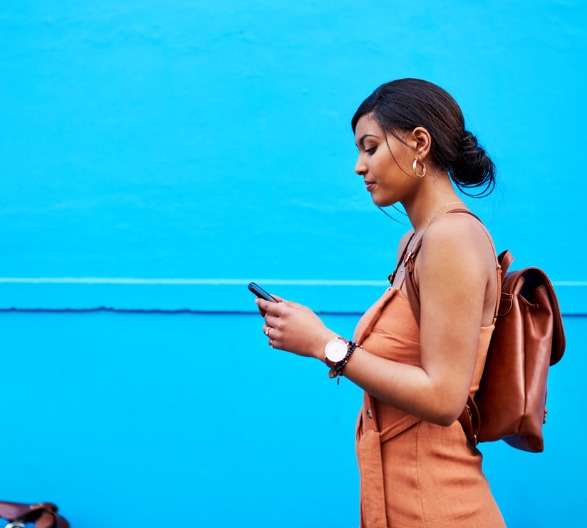 For People Who Are Always On The Go.
Mobile Banking
Your life has you constantly on the run. No time to stop into one of Copper State Credit Union's branches in Arizona? No problem. If you just pause for a minute, you can use your smartphone or other mobile device any time of the day or night to handle all your banking tasks. Plus, it takes practically no time at all to get started - just sign up for online banking and download the app.1
With mobile banking, you can view your account transaction history
Transfer funds between accounts
Pay bills on the spot
Deposit checks

by using the camera on your phone or mobile device2
Credit Score
Access and track your credit score or credit report anytime, anywhere with free Credit Score. The best part? Checking your score doesn't hurt it at all, and experts recommend checking at least once a month. All members can now access and enroll within online banking or the mobile app!
Mobile Deposit
It's the picture-perfect way to get money into your account.
Use your phone's camera to deposit your paycheck in seconds.
Free app download
Deposit checks from anywhere
Quicker than paper checks
Fast access to money
Sometimes, everything just clicks! Like the moment when you learn you don't have to go to a branch to deposit most checks. With mobile deposit, all our Arizona members have to do is use their smartphones or tablets to shoot photos of the front and back of their checks. From there, it's a snap to use our mobile banking app to get the money into your account.

All checks must be endorsed on the back with your signature and "FOR MOBILE DEPOSIT ONLY, Copper State Credit Union" prior to capturing your check image. Deposits are subject to limitations, which may change from time to time. Please contact us if you would like to determine the current limitations applicable to your account. Please see the Remote Deposit Capture Agreement for more information.
Make deposits into any of your accounts with us
Security features safeguard your transaction
You retain the paper check for your records
Get electronic confirmation when the transaction goes through
Log In with Smart Access
It just takes one touch to log into our mobile app.
Easily and securely log in to check your account.
Quick access to app
No password needed
Easy-to-follow instructions
High-tech security
Don't spend time fumbling with your smartphone when you want to access our mobile banking app.3 High-tech biometric technology eliminates the need for our Arizona members to punch in a password when they want to check balances, transfer funds or pay bills.
No need to type a password. Your fingerprint is all you need to access our mobile app.
Works with Apple® devices4

with iOS5

version 8 or newer: iPhone® 5s, 6, 6 Plus, iPad Air® 2, iPad mini® 3, or newer.
Works with devices with Android Marshmallow™ (Android 6.0 or newer): Google Pixel™, Nexus 7™, Galaxy S7™, Motorola™, and other Android™ based phones.6
For enabled devices, you will see an information screen in the login area of the Copper State Credit Union mobile app. Follow the directions to enable fingerprint access.
Disclosure
1Data charges from your carrier may apply.
2You must be a Copper State Credit Union member for at least 90 days before you are eligible to use the RDC Service.
3 Data charges from your carrier may apply.
4 Apple, the Apple logo, iPad Air and iPhone are trademarks of Apple Inc., registered in the U.S. and other countries. Apple Pay, iPad mini and Touch ID are trademarks of Apple Inc.
5 IOS is a trademark or registered trademark of Cisco in the U.S. and other countries and is used under license.
6 Android is a trademark of Google LLC.