6 Types of Mountain Bikes + 3 Types of Daredevils You'll See Riding Them
I should start off by saying that I'm not 'one of them' - the daredevils riding 6 different types of mountain bikes in the Arizona foothills. But my husband is! And I've learned a lot about this MTB culture that's become so trendy in recent years. I've also learned how much it costs...😅
So I thought I'd take a moment and share the knowledge I've learned with you - whether it's so that you can jump on board - err, bike seat - or just to expand your knowledge for when your loved one decides to start mountain biking in scenic Arizona.
6 Types of Mountain Bikes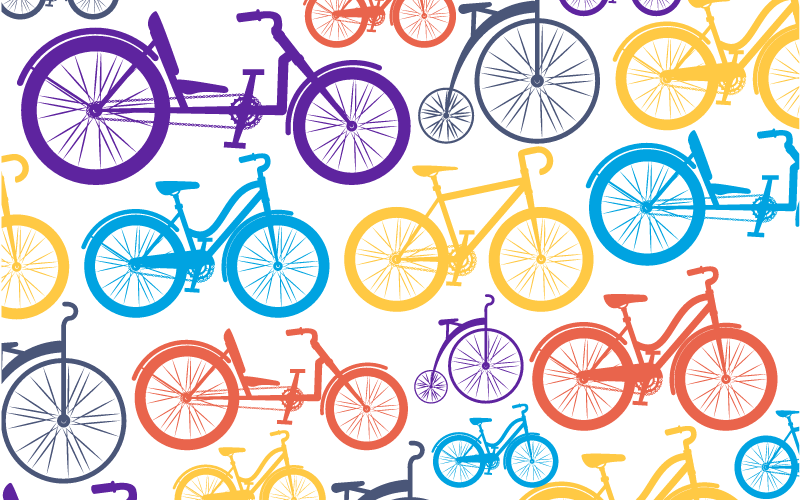 1. Trail Bikes
As one of the most common types of mountain bikes, this full-suspension mountain bike balances easily between a good time and a good climb. Efficiency and weight are in the average range and don't conform to a specific type of mountain bike racing style. If you're just looking for a fun hobby, you probably want a trail bike. At the end of your ride, feel free to relax and enjoy some Arizona stargazing.
💲 Average Cost: $2,000
2. Cross-Country Bikes
Low-weight, efficient climb, and reasonable price are what differentiate cross country bikes from regular trail bikes. Can work well for distances upwards of 25 miles per ride! Also known as hardtail bikes. There's an abundance of trails to try out with these bikes. Camp Verde is a great town to visit if you want to see Arizona ancient ruins and go for a few rides.
💲 Average Cost: $800
3. Fat-Tire Bikes
Not to be confused with the New Belgium brew, Fat-Tire bikes are a pretty self-explanatory category that come with exceptionally wide tires (like 5 inches across!) which gives them excellent traction in a variety of terrains, even sand and snow. You could take this one to the California Sand Dunes. A fun choice for beginners. 👍
💲 Average Cost: $1,500
4. All-Mountain Bikes
The very hardcore uncle of trail bikes is the all-mountain bike. Expect an extremely high-intensity workout if going up a mountain on one of these babies, and then a really fast downhill experience afterwards. They usually come with more technical features and would fit an advanced biker best. You can take these for a spin at a few different hidden gems in Arizona.
💲 Average Cost: $4,000
5. Downhill/Park Bikes
These almost didn't make the category cut, because they're really only allowed at bike parks where you ride a lift to the top of the hill in order to ride down. So you don't even get the workout of riding up first! Full body armor and protective gear must be worn if you ride a park bike. To give you some reference, REI doesn't even sell these ones. For expert riders only, these are the speediest and (in my opinion) the most dangerous option. You should probably have a license to ride one.
💲 Average Cost: $3,600
6. Electric Mountain Bikes
A unique option in types of mountain bikes is the electric one. Electric mountain bikes are newer to the scene and come with their own benefits and drawbacks, as well as a slew of their own categories. It's likely if you're on the trails often you've *heard* one of these e-MTBs whizzing up behind you. They combine the traditional feel of pedaling a bike with a bit of a motorized boost. Be careful with these if you don't have a lot of mountain biking experience! They can really fly.
💲 Average Cost: $4,950 (+ $500 in maintenance per year)


More of a camper than a biker? Me too. That's why I loved this eBook: It's Your Adventure: Camping Products & Tips for Wanderers at Heart
3 Types of Mountain Bike Riders
The Casual Rider
-In it for the love of the ride 😍
-Typically good about safety gear (thank you!!) but don't feel the need to have 12 pairs of $1000 memory foam bike shorts...
-Enjoy riding alone or with a buddy, but not usually in big groups
-A good ride is 3-10 miles for these folks
The Serious Rider
-Anyone who uses the phrase "MTB" in normal conversation and hangs out at bike shops for hours
-They're the ones who shout "on your left" loud enough so that you can actually get out of the way in time
-They know all the best (and worst) mountain biking trails in the area - and will tell you about all of them
-More likely to enroll in races and take much longer rides, 10-25+ miles at a time, and with large groups of other serious bikers
-Like to upgrade their equipment over time, purchasing newer and better technology as it comes out (get your wallet - or adventure loan - ready 💲💲💲)
The Crazy Rider
-Anyone who rides an electric mountain bike without the proper safety equipment or training. Those things are wild. And my husband and his buddies have seen a few major wipeouts on the trails in this category.
-Anyone who rides a mountain bike primarily on pavement. This one will horrify our serious rider readers out there 😱, Apparently it ruins the tires? Or suspension? Or drop-tube? Hmmm.
Must-Have Equipment for All Types of Mountain Bikes
If you're just getting started, these are the non-negotiables every mountain biker must carry with them at all times.
At first, I didn't believe my husband when he said he "needed" all these, but turns out he was right. In fact, maybe take a pocketknife with you too, in case you run into a javelina (true story, don't ask).
-Water 💧

-Helmet ⛑️

-Bike shoes 👟

-Bike shorts 👖

-Spare tube 🚲
-Patch kit 🚲

-Tire levers 🚲

-Pump 🚲

-Multi-tool 🚲

-Chain lube 🚲
Plus, it would probably help to have a lightweight pack or backpack to carry it all in. Just these basic items can cost an average of $550 total (which is why that extra 10% financing with a Copper State CU adventure loan can come in handy)!
Helmets range from $50 to $500, bike shoes average around $200, shorts $100, spare tubes are around $10, you can get patch kits for $5, tire levers from $5-$30, chain lube $5-$10, multi-tool for $20-$60, and a backpack will run you $60-$150.

(Electric bikes have many more technical components than we can list here, so you're better off going direct to manufacturer to find out what you need on hand for your e-MTB.)
Conclusion
Whew! So now you're ready to not only choose the mountain bike that's right for you, but decide what type of mountain biker you'll be, as well as make a list of all the things you'll need during your ride. Right?
No?
Ok, maybe not. But I did list some more *serious* references below, and I hope this roundup has helped a little in finding your next active Arizona vacation. Now get on out there and hit those trails!
Sources:
https://www.rei.com/learn/expert-advice/mountain-bike.html
https://wildproofgear.com/best-mtb-backpack/
https://www.bicycling.com/repair/a33249097/how-to-use-a-tire-lever/
https://www.mountainbikereport.com/mountain-bike-price/
This article is intended to be a general resource only and is not intended to be nor does it constitute legal advice. Any recommendations are based on opinion only. Rates, terms and conditions are subject to change and may vary based on creditworthiness, qualifications, and collateral conditions. All loans subject to approval.