Exploring the California Sand Dunes: Your Family's Next Exciting Adventure
If you're into adventure, camping, power sports and sand between your teeth, the California Sand Dunes might be your next family destination.
What Are The California Sand Dunes?
The California Sand Dunes are the largest mass of sand dunes in California. Also known as the Glamis Dunes, they are located in the South East corner of California, near a town called Brawley. It is about a 3-4-hour drive from Mesa, AZ. Dune season begins in October and goes until April or later in the year, depending on your heat tolerance. Holidays were particularly fun and busy!
Who Can Ride What & Where [On The California Sand Dunes]?
The California Sand Dunes have areas specially designated for riding motorized vehicles such as dune buggies. There are also sections where you can only walk or ride horses. You'll need permits for either one, though! There's something for everyone, even though some areas are more protected than others. Certain areas prohibit motorized vehicles because of wildlife. Permits are available online or at the Glamis store.

Glamis Store
One particular hot spot is the town of Glamis. Located within the 40-mile x 6-mile area known as the Imperial Dunes, the town of Glamis is home to the Glamis Beach Store. Keep in mind, this is the only attraction/store for miles where you can fuel up, get a really cool t-shirt, secure your permits, grab snacks, or stock up on all the dune-gear (whips, lights, batteries, helmets, and so on). They have a lot of random fun stuff at the Glamis Beach Store. After you've made this stop, you'll be ready to get on with your adventure.
What Do I Need At The California Sand Dunes?

There are no developed camping sites, so you can choose how rugged you want to be. Many people like to bring their toy trailers and RVs. Others prefer the tent life or even sleeping out under the stars. If watching the night sky is your thing, then take a look at where you can experience Arizona stargazing.
You'll definitely want to be prepared for the sand and loud engines. Bring along head socks, goggles and ear plugs.
The head sock is exactly what it sounds like. It covers your head and most of your face to protect you from sand. Goggles are a must to protect your eyes from dust and sand. Ear plugs are recommended to protect you from loud engine noises and, again, you guessed it, sand! Some of this you can find in the Glamis Beach Store but other items you'll want to order ahead of time, like goggles and helmets, to ensure a correct fit before you head out on your adventure.

Riding On The California Sand Dunes
There are so many options for your California Sand Dunes adventure. During the day, people load up coolers and sand protection gear to head out for some trail riding. One buggy, bike, or ATV will take the lead and your crew will follow behind. You'll go up and down and over some beautiful sand dunes. Taking the cars nearly vertical on some dunes is sure to thrill.
You may have a four seater dune buggy for the whole family, matching dirt bikes, a trio of 3 wheelers or a trailer full of ATVs. (If you don't have any of these toys yet, you may want to check out our adventure loan package.) Drag races are an exciting sight to see during the day. On a long strip of flats, everyone will gather on the sides to watch the races. You can see anything from a modified golf cart to a fancy dune buggy with all the bells and whistles racing along the drag racing area.
Another exciting activity is the night ride! If your toys are outfitted with appropriate headlights and light up whips, you can partake in a night ride. Ride along, enjoy the night stars, and see the different colored lights from decorated buggies.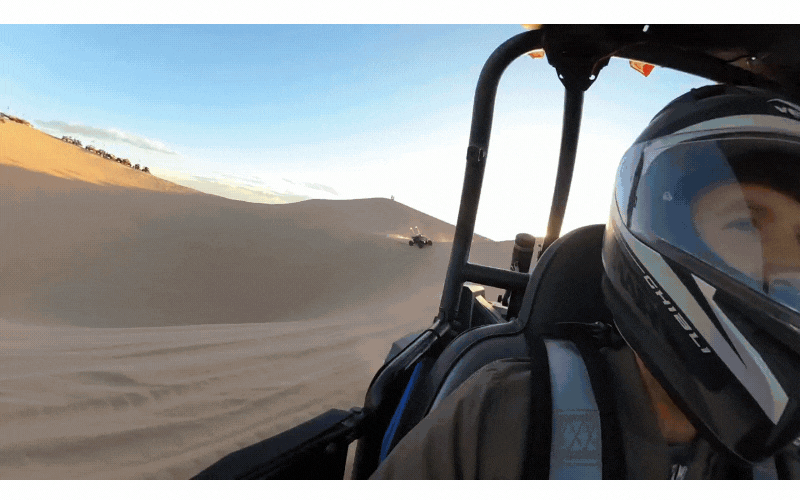 Conclusion

I have so many memories at the California Sand Dunes as a kid. Something about being out there in the sand made it one of my favorite family vacations, whether we were riding three wheelers, climbing up dunes, or just walking through the beach store. The thrill of fresh trails, the fun of watching the races, or maybe just the fact that all ages and different types of families and friend groups can take part in their own adventure at the dunes. There really is something for everyone at the California Sand Dunes.
Here are some other getaway ideas:
This article is intended to be a general resource only and is not intended to be nor does it constitute legal advice. Any recommendations are based on opinion only. Rates, terms and conditions are subject to change and may vary based on creditworthiness, qualifications, and collateral conditions. All loans subject to approval.