Budget-Friendly Valentine's Day- Staff Favorites!
Valentine's Day is just around the corner. This holiday can make you feel like you have to spend lots of money to 'prove' how much you love your friends & family, but here at the credit union we're big fans of using creativity –instead of cash—to spread the love.
Here we have some simple ways to have a good time without spending much at all.
Budget-Friendly Valentine's Day: Staff Picks!
Celebrate at Home
Restaurants on Valentine's Day are often crowded, overpriced, hard to get into, or all of the above. Thankfully, you don't have to go out to enjoy an evening with loved ones. Here are our favorite at-home ideas that our team members enjoy each year.
When Heather, one of our Branch Managers, was a child, her mom made heart-shaped meatloaf and pink mashed potatoes. This just happened to be her dad's favorite meal, and the added romantic theme made it even more festive. She now does something similar with her own family. Create priceless memories of cooking together by getting the whole family involved in planning and preparation.
Of course, sometimes you lack time to cook a themed meal, or maybe you don't want to spend time in the kitchen when you could be spending quality time with the ones you love. Juli in our Lending Department will pick up a heart-shaped Papa Murphy's pizza when her husband is home for the holiday. It's around $10 and creates a fast, festive, and delicious meal.
Sometimes it's the memories that make the holiday special. Instead of going out, cook your honey's favorite meal at home. This is what two of our Arrowhead Branch team members, Erin & Padraic, like to do with their spouses. Even better, turn on some music and enjoy cooking together. Pull out the candles and nice dishware to make it romantic--unless there are kids involved. Erin will tell you, with her three little ones under age 3, that paper and plastic are the way to go if the kids are 'helping'!
Cooking a big meal is a lot of work, and Carole on our Lending team prefers to just settle in with her loved ones by the fireplace. With a warm drink in hand, her family by her side, and some music playing, she creates the perfect peaceful Valentine's Day without spending a dime.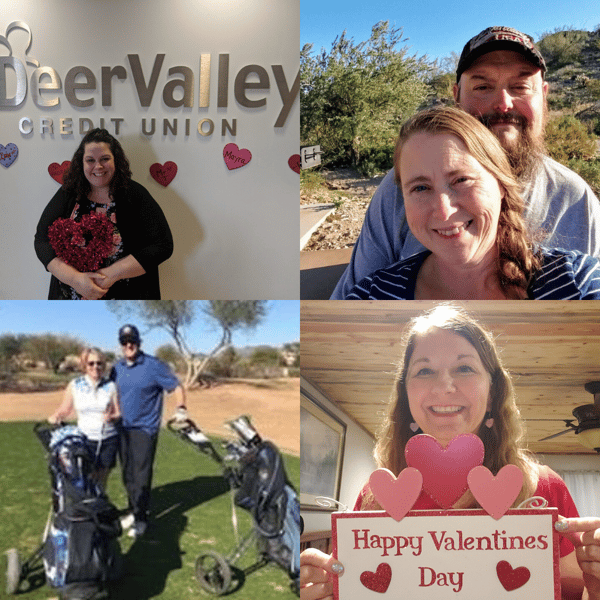 (Top left: Erin, top right: Jenn (in training), bottom left: Robb, bottom right: Carole G.)
Celebrate Close to Home
If staying in isn't your ideal holiday, do what Jenn in our Training Department does and go for a hike! Arizona's February cool weather is perfect for hiking. South Mountain, Apache Wash, or Dreamy Draw are all beautiful this time of year in the Phoenix area, or you can check out The Outbound Collective's Top 25 Hikes in Arizona for more suggestions.
Christina in the Marketing department likes to take advantage of our beautiful sunsets. She often grabs chocolates and cheese and heads out to Sunset Point with her sweetheart to watch the sun go down. This can be quite romantic with the right company.
Robb, our CEO, prefers to celebrate on the golf course with his high-school-sweetheart-turned-wife, and Arizona delivers plenty of options for them. Walking nine holes with a pull cart and some favorite snacks is their idea of a perfect Valentine's Day.
Celebrate by Being Sweet
You don't have to spend a lot of money to show the special people in your life how much they mean to you. Cyndee in our Risk Department does door decorations every year with her family. Simply cut out paper hearts in a variety of colors, write one sweet thing about the person on the heart, and attach it to their door! She recruits all family members to get involved and write a few hearts for each other. Another idea? Share some sweet treats, like chocolate-covered pretzels or strawberries, while making the hearts.
Coupon books cost nothing but your time but can be incredibly meaningful. Jenn in Marketing and Candace in the Risk Department do this every year. The items in the coupon book should reflect something that's important to your loved one. Whether it's a dozen homemade cookies, a back massage, or an oil change for their car, be original & inventive. Encourage your kids to do coupon books for each other (or you!) as well. It's great practice to learn at a young age how to give some of your own time to others.
If you don't have a Valentine, that doesn't mean you can't celebrate. Aurora in the Risk Department still spends time with her closest loved ones on this special day, but also makes it a priority to seek out someone who doesn't have a Valentine and spend the day with them. Think of an elderly parent or grandparent, local community home, or youth in foster care organizations. Helping someone else not feel lonely is one of the most meaningful ways to celebrate this holiday.
Valentine's Day can be a time to celebrate the people you love most or to make a new friend and create some shared memories. It doesn't mean you have to spend a lot of money on gifts. The gift of your time and a little bit of imagination is all it takes to make someone feel special and loved this Valentine's Day.
This article is intended to be a general resource only and is not intended to be nor does it constitute legal advice. Any recommendations are based on opinion only