It's Your Adventure: Camping Products and Tips for Wanderers At Heart

Introduction
With 6 distinct national forests and a variety of climates and terrains available within a few hours' drive, Arizona is the ideal state to live in and become that outdoorsy, camping-type person you've always wanted to be. We want you to live out your adventure, so we've provided this guide as well as an adventure loan package to help you get there.
But what many don't know is that there are so many different ways to go camping, at different price points and comfort levels. We break down the different ways you can go camping, with what big equipment you might need or want, helpful items to have, and tips that are just nice to know before you head out into the wild.
Our Must-Haves for All Types of Camping Trips
If you don't know what type of camper you are yet, here are our top picks on what you should always include for your trip. What's helpful about our Adventure Loan program is that we provide that extra 10% financing (in addition to the value of the vehicle or toy) so that you can pick up some of these necessities!

Travel Must-Have

This towing capacity calculator. (It's free!) Don't leave on a trip without knowing if your vehicle can tow what you're trying to tow! You'll wish you had checked it out when you're sputter-hauling up the side of a mountain…

Relaxation Must-Have

Hammock – usually simple to set up, this is the best place between a couple trees for mid-day camp-napping, reading, or just hiding from your kids.

Safety Must-Have

Jump Starter with Air Compressor – ok, maybe not the most fun item on our list, but who wants to get stuck in the middle of the forest with a dead car battery? Many of these jump boxes come with lights, charging ports, and a tire pump. They cost about $100 on average.

Kids Must-Have

Have two storage containers that stay with your camping stuff – one for science/exploration (think binoculars, magnifying glass, bug catcher, shovels and buckets, etc.) and the other for fun games that are only used during camping trips. Depending on the ages of your kiddos, this could include anything from special coloring books and Legos to camp-themed books, card games, and small outdoor toys like Frisbees. They won't be bored with these items because they won't have seen them since the last time they went camping! And you don't have to worry about getting all your 'home' stuff dirty during the trip.

Communication Must-Have

Long distance walkie-talkies. Why? You may not have cell service where you're going! If there are several people in your party or you plan on separating, this is a great idea and a pair will cost you between $30-$100.

Necessity Must-Haves
First Aid Kit: Just assemble the basics for a first aid kit (you don't have to buy one pre-packaged, just make your own and save a little money.) Here's REI's comprehensive first-aid kit checklist for you to reference.


Extra Water: Plan on at least 1 gallon of water per day per person or animal, if you're hauling your own water to camp. For a family of four with one dog going for a 2-day trip, this would be 10 gallons of water (at least). Remember, you'll have to douse the fire when you leave, and you'll be using water for washing hands and utensils, as well as drinking. Arizona tends to be a dry state – don't let the opportunity for dehydration to sneak in! If you can fit an extra gallon or two, this is a great idea. You might be able to help out another group if they weren't as prepared as you. ;)
Camping with a Tent
What's nice about tent camping is that you don't NEED a ton of large equipment. If you're a minimalist, you can fit what you need in a mid-size car for a camping trip with two people.
Large Equipment Descriptions & Pricing:

The tent is probably your biggest or most important piece of equipment, and tents range from $100 for a (very!) tiny 2-person tent to large and luxurious tents at $800 or more. Also keep in mind that you can search for gently-used camping equipment on marketplaces like Facebook or OfferUp.
Some other fun options when tent camping include:

• A larger vehicle (truck or SUV) to pack everything you need
• Tent camping with a boat – you'll need a tow-capable vehicle for the boat's weight, appropriate hitch and hookups, etc.
• Tent camping with ATV or other similar toys – a tow-capable vehicle for the trailer/toy weight, appropriate hitch and hookups, etc.
Nice to Have + Need to Know
Large tarp for under the tent – prevent moisture seepage, a little protection from cold/bugs/tracking in nature from outside. Leave shoes right outside the tent on the tarp!
Extra stakes for the tent – they're so easy to lose track of, and some are rather flimsy/breakable.
If you are taking a truck or roof rack, always bring extra straps and tie-downs.
Solar powered stake lighting – helpful for nighttime walks and for lighting your camping area
Travel laundry bag – camping is dirty, so it helps to have a large laundry bag to stow away soiled clothes and keep them separate from whatever is still (somewhat) clean.
You'll want to leave room in your vehicle or trailer to haul trash out at the end of your trip. Don't pack completely full on your way up, so that you're able to #leavenotrace!
Camping with a Popup or Travel Trailer
Copper State Credit Union Adventure Loans help you get the machine you want, the trailer to tow it, and the rest of the equipment and gear to pull it all together – all in one simple application and with 110% financing (use the extra 10% for extras & equipment!) Use for ATVs, UTVs, Boats, Motorcycles, RVs, and more.

Large Equipment Descriptions & Pricing:

Popup trailers are lightweight, compact, and budget-friendly, sometimes with canvas sides that fold up. They don't require a huge truck to tow, and have less amenities than the other options below. Pricing for these starts at around $3000 for used, and $7,000 for new popup campers, going as high as $18,000 for deluxe models.

Travel trailers are pulled by regular hitches on pickup trucks, some SUVs and minivans. They're versatile because they can be disconnected from your tow vehicle once it's set up at a site. They're different from popup trailers because they're hard-sided. A team member noted how national parks won't allow you to camp in soft-sided trailers (popups) because of bears! Keep this in mind if national park camping is in your future. For a new travel trailer, expect to pay between $11,000 and $35,000.


5th Wheel Travel Trailers require a special mount in the back of the truck bed that allows for easier and more stable towing. These range 22-40 feet long, and obviously will need a more powerful vehicle to tow than a small popup would. They tend to be more expensive than a traditional travel trailer, starting around $25,000 and climbing to over $100,000, depending on amenities.

Nice to Have + Need to Know Tips
Stabilizer and equalizing bars or anti-sway bar for popup
Surge protector
Longer water hose/setup
Disposable gloves
Chocks and blocks
National parks don't allow soft-sided travel trailers – popups – because of bears (!)
Any type of tow-behind trailer will make exploration a little more possible on back country roads vs. a motorized RV/motorhome.

Camping with an RV Motorhome
Large Equipment Descriptions & Pricing:


Class A Motorhome/RVs drive themselves, start at $60,000 and are the largest, most luxurious option, including up to 5 slide-outs for extra rooms and full kitchens. At 29-42ft, they're ideal for long travel trips and big families but won't be accepted at every camping site, and may not be able to navigate back roads.


Camper Vans/Class B Motorhome: smaller, ideal for couples, but also are self-motorized and don't require a vehicle to tow. This would be closer to the feeling of driving a large SUV. They start around $40,000 brand new.


Class C RVs are a great choice for families who need more room than a camper van but don't want to maneuver the length of a Class A RV. Class C RVs are allowed in most campgrounds and can handle a lot of the same roads that a Class B can tackle, according to transwest.com.



Nice to Have + Need to Know Tips
Depending on your specific RV, you may or may not need:
Surge protector
A longer water hose. The ones that come standard are almost never long enough!
Water pressure regulator
Disposable gloves
Chocks and blocks
Small fire extinguisher for kitchen
Sewer kit
Generator
A rug for outside the entrance (remove excess dirt from shoes, or remove shoes altogether)
You'll need to know if your intended camping location has roads that you can maneuver in your particular vehicle. You wouldn't want to get all the way there only to find a mud path that you can't traverse!
Conclusion
Don't ever stop wandering! Whether you're getting ready for your first camping trip or your thousandth, we hope you found something useful in this adventure guide. And remember – whenever you decide you're ready to upgrade your camping experience, we're here for you with Adventure Loans!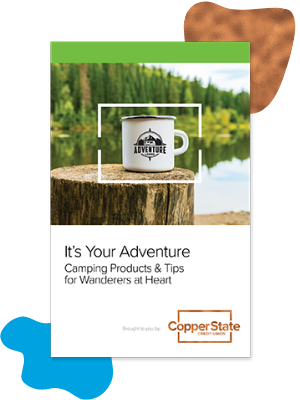 Send a copy to your inbox now!