It's Time to Admire Scenic Arizona [5 Jaw-Dropping Adventures]
Not only is Arizona famous for its blazing hot summers—but we also have some of the most beautiful mountains, canyons, and deserts in the country. Whether you are an Arizona native or you're stopping by from out of town, try out any of these 5 scenic Arizona vacations that may leave you speechless.
1. Drive Through Scenic Arizona

If you're into the classics, a peaceful scenic Arizona drive is an easy go-to. We recommend the Sedona to Oak Creek Canyon Scenic Arizona Drive on State Route 89A. This enchanting excursion will take you from the red rock country of Sedona through the pine-filled forests of Flagstaff. The road is windy and requires the driver's full attention, but there are plenty of opportunities to stop and take in the views. Halfway through the trip you may stumble upon Slide Rock State Park, home to several natural waterslides. There are also campgrounds where you can throw a carne asada or camp out overnight (be prepared for those cool nighttime temperatures). If camping is your thing, then be sure to check out our eBook for more tips: It's Your Adventure: Camping Products and Tips for Wanderers At Heart.

2. Fly Away

If you don't feel like driving (especially with these gas prices), then ditch the traffic and take to the sky. A blissful hot air balloon ride is the perfect adventure to get a bird's eye view of Phoenix or Lake Havasu city. Imagine yourself gently floating through the sky, breathing fresh air, and watching the sun rise over the mountains. Who knows, maybe you could even see your house or hotel from up there. Another option is to escape the city altogether and take a hot air balloon through Sedona or over the Grand Canyon— what great places to enjoy Arizona stargazing. Some hot air balloon tours even offer breakfast and chilled champagne after the ride. Mmmm.

On the flip side, if you like a little more action, then an exciting helicopter tour could be for you. Seeing the world from up high can give you a new perspective and a thrilling ride. These scenic Arizona experiences could be your next quick getaway.
3. Prepare for a Rugged Ride Through Scenic Arizona
Grab your 4x4s, ATVs, UTVs, and bikes to live it up with an off-roading adventure. You can push the limits and explore the outdoors of scenic Arizona or the California Sand Dunes with your closest friends and family members. Whether you're an advanced rider or just starting out, there's an abundance of off-roading trails for everyone to try out in scenic Arizona. My personal favorite is Schnebly Hill Road. Along the trail you'll find shaded spots to pitch a tent or park an RV. The rocky path is an exciting ride that leads to one of the hidden gems in Arizona, Schnebly Hill Vista. In winter seasons, many of these trails are closed due to mud caused by rain and annual snowfall. So, now is a great time to go!
If you're in need of an off-roading vehicle, learn more about our adventure loan package. We'll help you get the machine you want, the trailer to tow it, and the gear to keep you safe. In fact, that's why we included that extra 10% financing option - because those extras & gear can cost you.
Here's to taking the road less traveled. 🙌

4. Saddle Up, Partner
Although we love different types of mountain bikes and other mechanical toys, horseback riding is another fun way to get outdoors.
Whether you're looking for a romantic ride along the vineyards or a family expedition through the desert, horseback riding can connect you to scenic Arizona nature in a totally unique way that not everyone will be able to experience in their lifetime.
Not to mention, riding atop an animal as majestic as a horse can empower you! Many people testify to feeling a newfound sense of freedom. Sign me up! ✋

5. Tour Something Spectacular
Only

Found in Scenic Arizona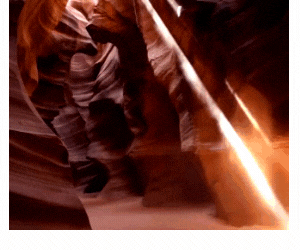 Arizona ancient ruins, ghosts towns, and Spanish missions are popular tour locations in the state. One of our top picks is Antelope Canyon, a common bucket list destination. People visit from all over the world to walk through the beautiful canyon's walls that were sculpted by years of erosion. There, you can see divine rays of light shine through a gap in the rock, illuminating a natural masterpiece.
Keep in mind: Antelope Canyon is located on Navajo Tribal Lands. A guided tour is required to enter, so be sure to secure tickets in advance.
We hope that these scenic Arizona ideas inspired you to get outside and enjoy our beautiful state. Take your loved ones with you and stay safe out there! And remember— if you ever need help budgeting for a trip or need a loan for a new toy, we're here for you. 😘
This article is intended to be a general resource only and is not intended to be nor does it constitute legal advice. Any recommendations are based on opinion only. Rates, terms and conditions are subject to change and may vary based on creditworthiness, qualifications, and collateral conditions. All loans subject to approval.