The Best Neighborhoods in Phoenix Area 2023 [Top 10 List]
We've done our research. Now, we're ready to give you the lowdown on the best neighborhoods in Phoenix, Arizona. Review the Phoenix neighborhoods below that match your style, preferred location, and price range. If you're buying a house in Arizona, it's possible one of these neighborhoods could be perfect for you.
Top 10 List

of the Best Neighborhoods in the Phoenix Area



Our highly-anticipated 2023 updated list of best neighborhoods in Phoenix is finally here! This year we're sorting by price. Ranked from least expensive to most expensive median home price (according to redfin.com), check out our favorite neighborhoods below.
---
1. San Tan Valley,
Median Home Price $420K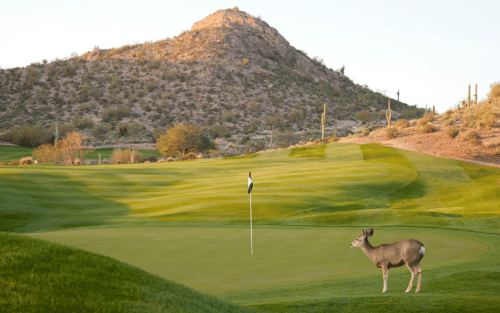 With about 100,000 residents, San Tan Valley is a new city with a rural feel southeast of Phoenix. Here, you'll find a mixture of farms, ranches, and golf clubs. Housing and development has seen an uptick recently as it's become a more desirable location for Phoenix area current residents looking for affordable newly built homes, acres of land, and ranch homes far from the city. Enjoy the flexibility of kicking back in a new house or saddling up with a few horses at San Tan Mountain.
As our most affordable pick for 2023, you can expect more bang for your buck in this neighborhood. The median sale price per square foot in San Tan Valley is $209, down a whopping 17.1% since last year.1
Safety: ⭐⭐⭐
Residents find San Tan safest in the center, where relatively few crimes occur.
Location: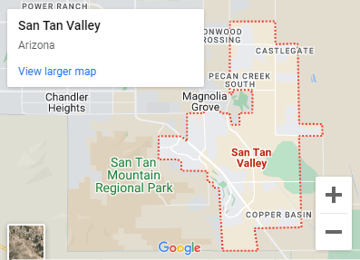 ---
2. Ahwatukee,
Median Home Price $428K

Although originally planned to become a retirement community, many families have made their way to Ahwatukee. Parents appreciate the Kyrene School District which has a high teacher retention rate, offers early second language courses, and holds extracurricular activities for kids. Many residents also love the southwest style single-family homes that connect to South Mountain hiking trails. Plus, when you're in the mood for more activity, hop on the I-10 for quick access to Tempe and Chandler for shopping and entertainment. At a reasonable price point, it's easy to see why homeowners claim this is one of the best neighborhoods in Phoenix.
Safety: ⭐⭐⭐
Ahwatukee isn't one of the safest cities in Arizona but it's grade is still quite respectable, with crime rates less than half of that of Phoenix.
Location:
---
3. Phoenix,
Median Home Price $440K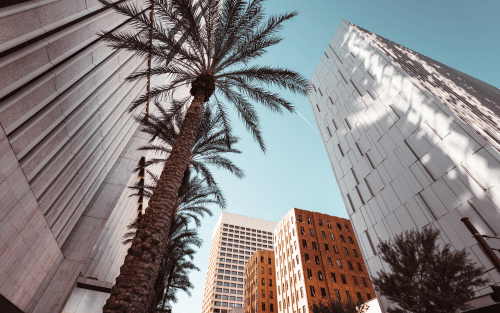 Stretching about 50 miles long, Phoenix has a variety of options for those who want to stay central. There are several neighborhoods to choose from, each with their own amenities and architecture. With close access to freeways, gated communities, and neighborhoods without HOAs, many people find what they're looking for in Phoenix. From authentic Mexican food, live music, museums, public art, public parks and tons of local events, you'll have something new to try out every weekend.
Living in the heart of Phoenix means you can hop on several major freeways relatively quickly. Use this to your advantage! Many Phoenicians need to commute to work and choose to explore the hidden gems in Arizona.
Safety: ⭐⭐
In a city of almost 2 million people, not every corner of the city is the safest. See the map below from neighborhoodscout.com where the lighter colors indicate less crime and the darker colors indicate more crime.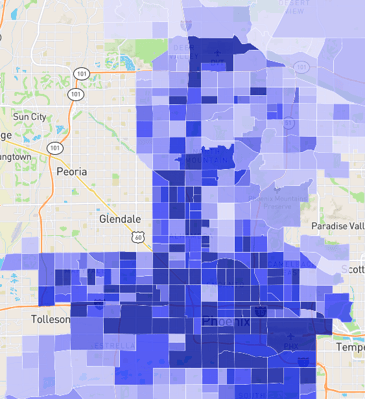 ---
4. Tempe,
Median Home Price $475K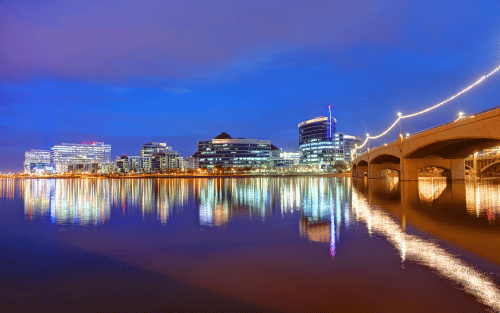 Similar to Downtown Phoenix, Tempe is bustling with urban flair. It's easy to get to specialty restaurants, coffee shops, and speakeasies with the light rail and walkable streets. Even though Tempe is known for its nightlife and college party vibe, you can still experience desert beauty at Papago Park or get active at Tempe Town Lake and Kiwanis Park. Fun fact: despite urban expansion, there are a few historic Tempe neighborhoods still standing from the early 1900s. You can even tour some of these houses in the fall!

Safety: ⭐⭐
Naturally, busy urban areas aren't as safe. That's why a knowledgeable and local real estate agent is a must! Tempe has safer suburbs in the south and east, bordering Ahwatukee and Chandler, respectively.
Location: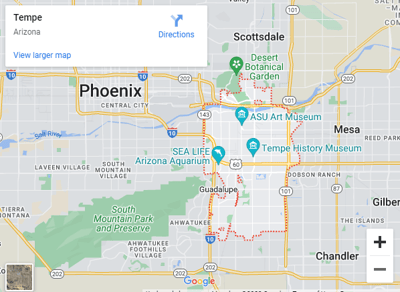 ---
---
5. Goodyear,
Median Home Price $499K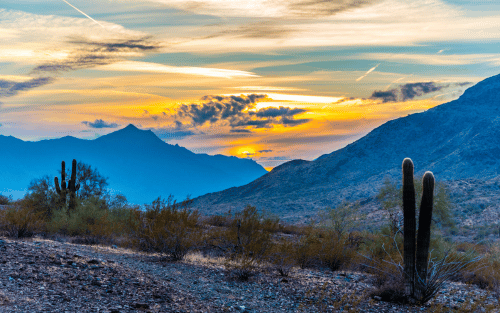 Spread out and watch the sunset on one of the many green grassy areas Goodyear has to offer. With 188 square miles of plains, rivers, and the serene Estrella Mountains, Goodyear offers residents a peaceful active lifestyle somewhat away from the big city. To top it off, there are plenty of newly built houses with private pools and plenty of square footage. We recommend working with a preferred realtor to find exactly what you're looking for.
Safety: ⭐⭐⭐
Although this best neighborhood in Phoenix is considered safe, crime rates are a bit higher along the I-10 freeway.
Location: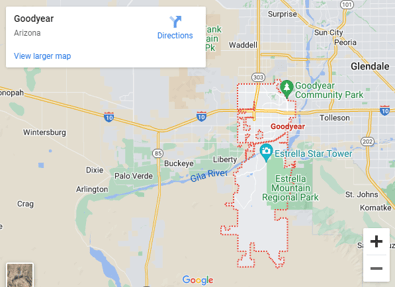 ---
6. Anthem,
Median Home Price $530K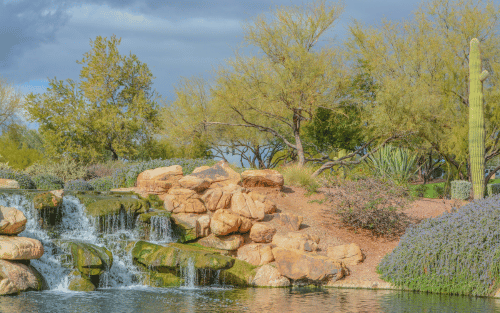 Enjoy peace and quiet in Anthem, Arizona, a pleasant town north of Phoenix where there's not much traffic or crime. With about 23,000 residents, Anthem is a tight-knit community where locals are friendly with one another (and rave about living there)! Many enjoy a high quality of life with access to amenities, community parks, reputable schools, and clean, safe neighborhoods. Not to mention— by living up north, it's a much faster drive to Sedona, Flagstaff, Page and other popular Arizona vacation spots.
Safety: ⭐⭐⭐⭐⭐
Compared to communities within Arizona, Anthem's crime rate is lower than nearly 74% of the state's cities and towns.2
Location:

---
7. Gilbert,
Median Home Price $573K

Gilbert is growing! With small town charm and big city living, families flock to Gilbert. You can train like a ninja warrior at Desert Sky Park or head over to Legacy Sport Complex where children, teens, and adults compete in their favorite sports. Or if you're into the cultural scene, try out a live show at Hale Centre Theatre. With fun community events, a walkable downtown scene, and affordable healthcare, Gilbert's got families covered as a best neighborhood in Phoenix.
Safety: ⭐⭐⭐
Crime statistics vary throughout Gilbert, with some pockets of higher crime. Overall, still a safe pick.3
Location:

---
8. Arrowhead Ranch
Median Home Price $600K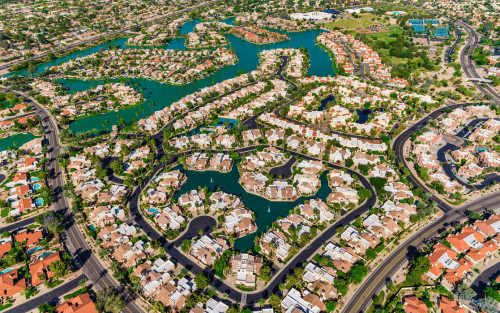 A special spot in North Glendale, Arrowhead Ranch is home to 130 acres of lakes for residents to enjoy. Since most homes are seated on a waterfront, you'll be able to fish and boat under sunny skies whenever you want! With shopping at Arrowhead Towne Center and golfing at Arrowhead Country Club, you have it all. This easygoing active lifestyle does come with a higher price tag, though. You can anticipate a median sales price of $600K on these homes.
Safety: ⭐⭐⭐⭐
In the top 30% for safety ratings in the Phoenix area.2
Location:
---
9. Desert View,
Median Home Price $688K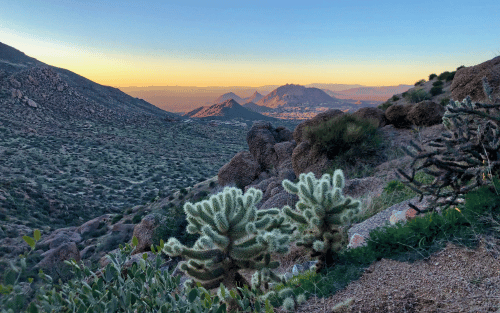 Sitting west of N. Scottsdale and north of Paradise Valley is the (somewhat!) less pricey neighborhood of Desert View. Housing and development has seen an uptick recently as it's become a more desirable location for Phoenix area residents. Beautiful mountain vistas, proximity to hike and bike in Sonoran Desert Preserve, and excellent schools are all factors boosting Desert View's popularity. If mountain biking is your thing (or you want it to be), then take advantage of our tips and tricks: 6 Types of Mountain Bikes and the 3 Daredevils You'll See Riding Them.
Safety: ⭐⭐⭐⭐⭐
With crime rates well below the state average and a year-over-year downward trend, it's one of the safer neighborhoods to live in Arizona.
Location:

---
10. Scottsdale,
Median Home Price $820K

In the south, you'll find Old Town and Downtown Scottsdale. Well known for its high-end shopping, entertainment, restaurants, and spas, odds are you'll have a good time. Question is though, can your checking account keep up with the luxurious lifestyle of Scottsdale living? If so, Paradise Valley and Arcadia might also be up your alley.
On the other hand in North Scottsdale, you'll find more suburbs and scenic beauty. The McDowell Mountains are close by, and many love accessing desert landscapes in their own backyards. If you live here, you might be tempted to treat yourself to a Phoenix staycation at extravagant resorts like the Scottsdale Princess. To top it off, the prestigious Scottsdale Unified School District makes this area a solid selection for families.
Safety: ⭐⭐⭐
Crime is heavier in the southern parts of Scottsdale where most activity takes place.
Location:

---
Regardless of the neighborhood you find yourself living in, you can always count on a local credit union to be on your side during the home loan process. Get pre-qualified or chat with a mortgage specialist today if you'd like more information.
Don't sleep on our other free resources when it comes to buying a home within the best neighborhoods in Phoenix:
So... how did we do? Let us know what you think about our list of best neighborhoods on our social media page!
Sources:
1 Redfin https://www.redfin.com/city/34610/AZ/San-Tan-Valley/housing-market
2 Neighborhood Scout Safety Maps https://www.neighborhoodscout.com/az/crime
3 WalletHub https://wallethub.com/edu/safest-cities-in-america/41926
This article is intended to be a general resource only and is not intended to be nor does it constitute legal advice. Any recommendations are based on opinion only. Rates, terms and conditions are subject to change and may vary based on creditworthiness, qualifications, and collateral conditions. All loans subject to approval.