Top Money Scam: Card Cracking
Card cracking is still one of the top financial fraud schemes in 2023, particularly for age groups 18-24 and over 60. The lure of easy money is so tempting, and fraudsters make it sound very legitimate. Watch out for these warning signs of the money scam known as card cracking.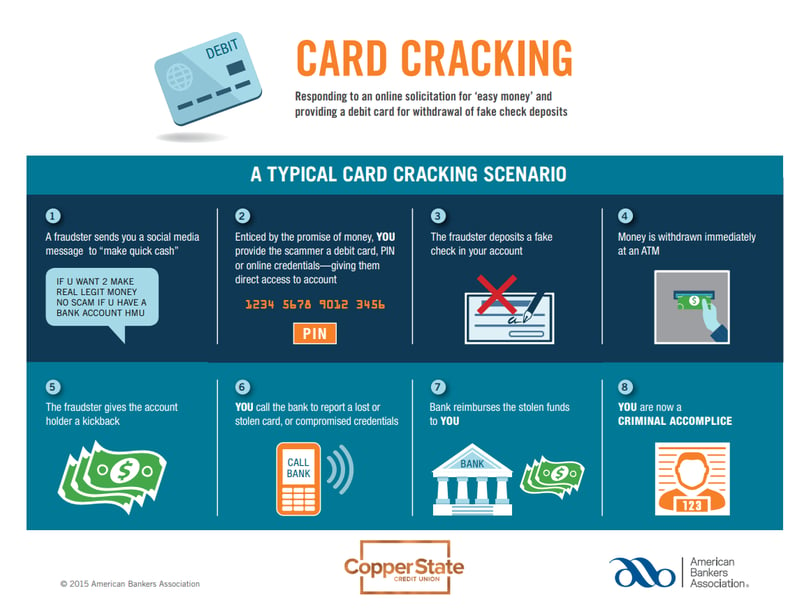 How Card Cracking Works As a Money Scam
1. Social Media Direct (Private) Message
Money scam fraudsters set up fake social media accounts, usually with profile pictures of themselves holding large amounts of cash, and with profile info claiming to be able to make legit money for free.
These fraudsters target high school and college students, young adults looking to make extra money and older adults. They usually send a private message to an individual claiming that you can make money easily and legally as long as you have a bank account and a debit card. This is a money scam!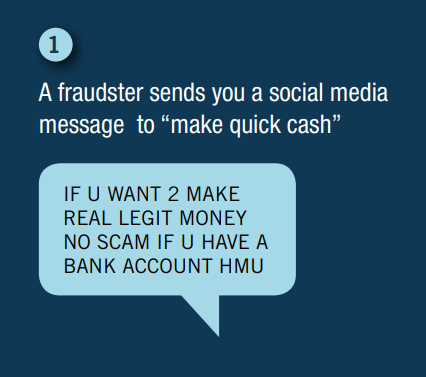 2. "Free Money for Account Info!"
This offer of 'free money' tricks people into providing account information such as a debit card number and PIN, online banking username and password, or other account passwords and information such as member number, account password, account number, and routing number.
Don't share your financial account information with anyone! We talk more about keeping your financial account information safe in our article on debit card fraud awareness.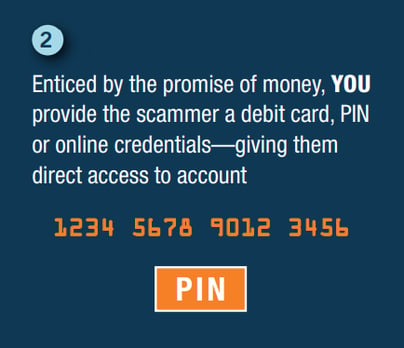 3. Fake Check Deposit
With this information, the thief deposits phony checks for a large amount of money into the account. They can attempt this in a variety of ways - from mailing in the check to using remote deposit in the app, or by depositing in an ATM. Unfortunately, fake checks are becoming extremely sophisticated. It's no longer easy to spot fake checks as part of a money scam, so sometimes these still get deposited and funds released despite rigorous security measures and software in place to detect them.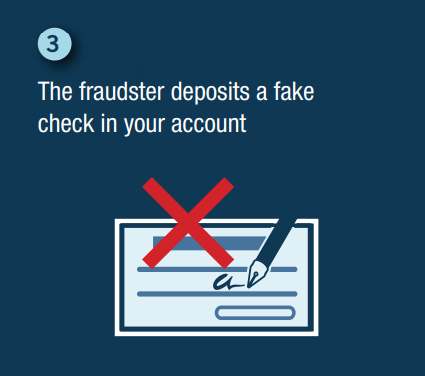 4. ATM Withdrawal
As soon as the fraudulent check deposits are available in the account, the fraudster immediately withdraws the cash from an ATM. The timeline for availability of funds from a large check will vary by institution, but institutions are not allowed to withhold funds indefinitely if they have deposited the check. And even when an extended hold is placed on a check, some of the funds will be made available prior to the entire check amount being released.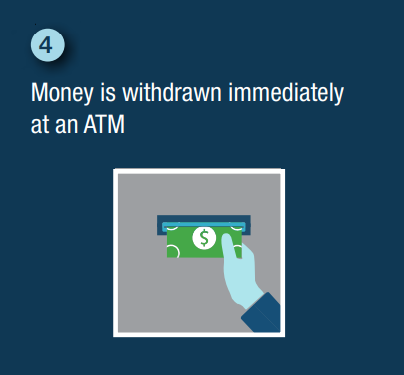 5. Money Scam Kickback
The fraudster shares the proceeds with the account holder, and keeps some of the money for themselves.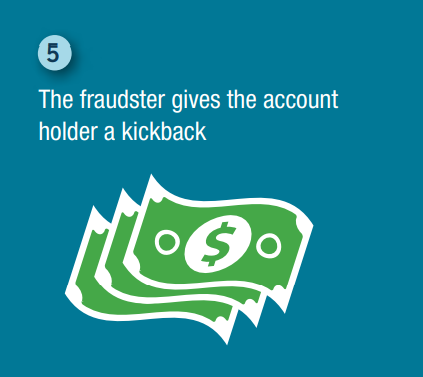 6. Report Lost Card
The fraudster will instruct the account holder (you!) to call your credit union and report a lost or stolen card, or other compromised info such as online banking credentials. This is the part where you are actively participating in the money scam and could suffer repercussions.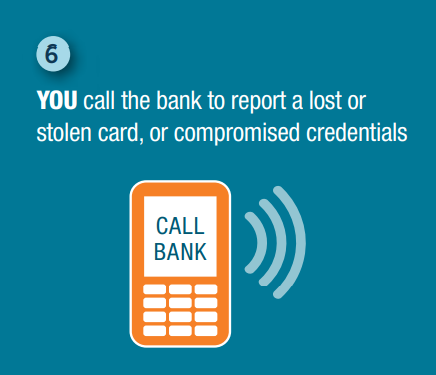 7. Reimbursement...Maybe
At this point, you'll have to sign an affidavit claiming that you didn't participate by sharing your information with anyone. If the bank reimburses the stolen funds to you, that makes you a criminal accomplice to a money scam.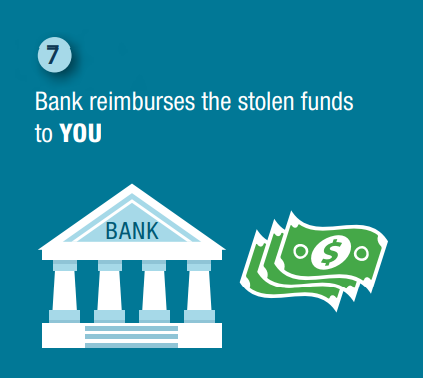 8. Criminal Fraud Scheme
When the credit union or bank investigates the situation and determines that card cracking has occurred, the account holder is now responsible for paying back all stolen funds. In some cases, this is thousands of dollars.
As you can see, card cracking is a serious and widespread money scam that ends up costing honest people thousands of dollars -or even worse- their reputation. Make sure to report any such fraud attempts as recommended below!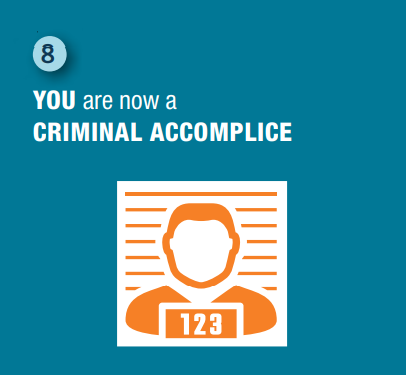 Report Card Cracking Fraud or Money Scams Attempted
1. Contact Copper State Credit Union right away at 623.580.6000. Your bank or credit union can help you if you're honest about what has happened. Trying to hide a money scam will only make things worse!
2. Contact any other financial institutions that may have been affected (for example, if you shared credit card info with a fraudster, immediately call your credit card company and let them know.)
3. Report the fraud to the Federal Trade Commission (FTC) at ReportFraud.ftc.gov

4. File A Fraud Complaint with the AZ Attorney General
Money Scam Takeaways
1. Never share financial account information.
2. Be honest with your bank or credit union if you have already shared account info with a potential fraudster. The only way they can truly help you is if you're truthful about what happened.
3. Report to the right agencies (see above!) if you receive a fraud attempt like card cracking.
4. Share your new knowledge - or this article - with your friends. It's likely they'll come across this at some point and now they'll know what to do.
And if you have kids - be sure to check out our free online games for kids. It could help your child become less susceptible to card cracking during their later years.
And remember - your local Arizona credit union is here to help. Let's stop fraudsters and money scams before they do any more damage! You can report fraud after hours as well.
Learn more about Copper State Credit Union and benefits of membership here or contact us here.
Download our free Identity Theft Protection Checklist if you've
recently become a victim of any type of fraud.
This article is intended to be a general resource only and is not intended to be nor does it constitute legal advice. Any recommendations are based on opinion only.