Send a copy to your inbox now:
Identity Theft Protection Checklist: The Fearless Path To Restoring Your Identity Now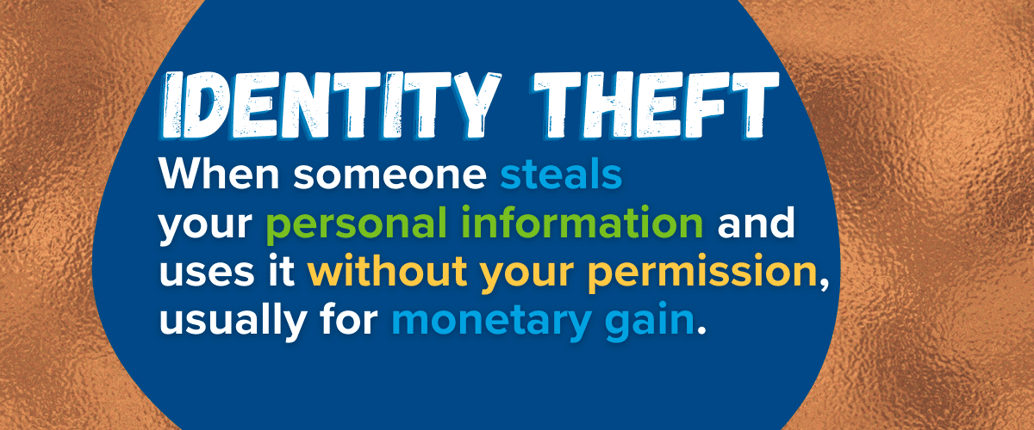 Identity theft is when someone steals your personal information and uses it without your permission, usually for monetary gain. There are several different types of ID theft, and they all affect a person in a different way. No one is immune to identity theft and information can be compromised in any number of ways.
Here's one example:

You've found 3 unauthorized transactions on your last statement for your checking account. Someone used your routing and account number to make several purchases overseas. You are missing $2,000 from your account. Having your identity stolen is a disturbing, unfortunate, and potentially costly experience. Copper State Credit Union is here to help. Follow this identity theft protection checklist to restore your identity now.


Identity Theft Protection Step 1:
Find the Fraud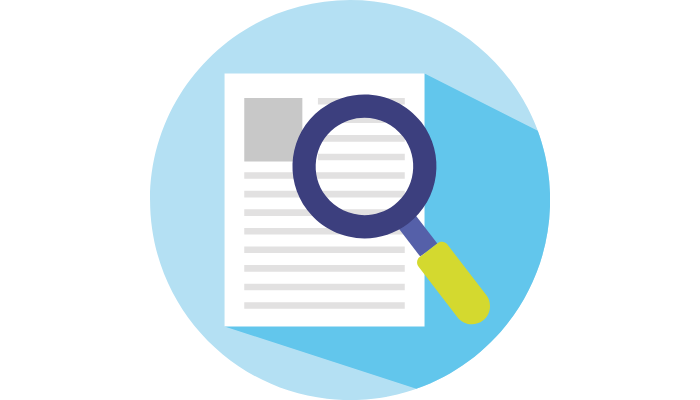 If you've already detected the fraud, take a deep breath. This very important part of the process - awareness - is already over. You detected the fraud, which is a key step to stopping identity theft in its tracks. Fraud reports are only investigated and compensated if you notice them or find them within a certain window of time (60-180 days, usually). If you're noticing a fraudulent charge a year or two after the fact, you're much less likely to get a resolution, find the perpetrator, or get your money back.
To be proactive about your approach, or if you're not sure if you're the victim of identity theft, immediately pull your free credit report from annualcreditreport.com and review the credit history for the past several years. Although this won't provide you your credit score, you don't need it. What you do need is to see if any of the items on there were not initiated by you. If there was a loan drawn in a different state under your name and SSN, and you have no knowledge of it, that would be identity theft! That's why your credit report is a good place to start.
Identity Theft Protection Step 2:
Contact the affected credit union or bank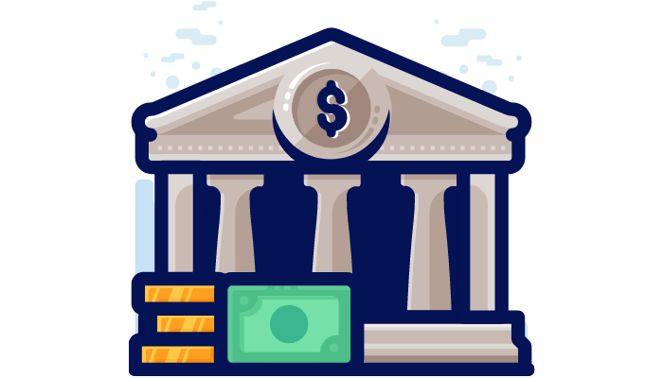 Wherever you know the fraud has taken place, start there. Was it your debit card? Go to the issuing credit union and report it. Credit card compromised? Contact the credit card servicer. If you don't know where the fraud has happened, skip to step 3.
You can contact Copper State Credit Union to report fraudulent activity at 623.580.6000. Take notes while you're on the call. If you download this checklist, you'll have access to a notes section where you can document date, time, and action steps taken.





Identity Theft Protection Step 3:
Review activity on
all

other accounts at

all

institutions.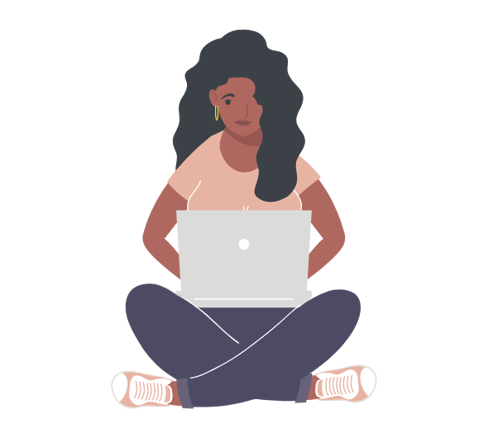 The random company who has your mortgage loan, that credit card you haven't used in a year, and every other place where you have even just a savings account... check them all!
Here's what to look for:


-Charges you did not authorize
-Modified addresses
-Modified phone or email address
-Modified PIN numbers
-Any new debit or credit cards that have recently been ordered

It's likely that affected accounts, or maybe all accounts, will be closed and replaced. This ensures that all compromised account numbers and related information can't continue to cause you further liability. This is especially the case for the top money scam of 2021 - card cracking.

Here's where you'll want to review activity:

-Checking Accounts
-Savings Accounts
-Debit Cards
-Credit Cards
-Auto Loans
-Home Loans
-Other Loans
-Retirement Accounts
-HSA or FSA Accounts





Identity Theft Protection Step 4:
Change your online banking usernames and passwords




Consider a password manager for encrypted storage of your online banking information. Never reuse passwords for more than one site, and never use your email address or account number as part of your password. Hackers love when they find a Word document full of usernames and passwords. Writing them down on a notebook in your desk drawer isn't much better...
Reputable password managers like Bitwarden, LastPass and 1Password are solid choices. Some are free and some have paid plans, but the cost of identity theft will be much greater than the cost of a password manager. Although some feel wary of putting all their passwords in one place, many password managers use 256-bit AES encryption, a military-grade level cipher used to encrypt and decrypt data so only authorized parties (a.k.a. YOU) can access it.



Identity Theft Protection Step 5:
Change your PIN (Personal Identification Number)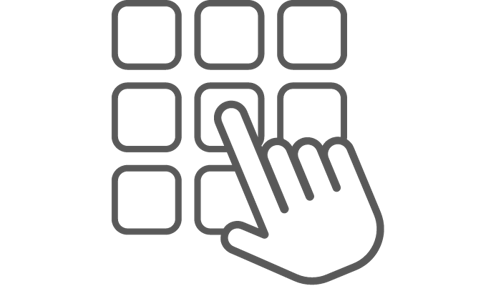 Make sure these are changed everywhere you use one – debit cards, for example. This helps avoid the possible threat of debit card fraud.








Identity Theft Protection Step 6: Contact all three major credit bureaus



You'll place a "fraud alert" on your file and request a copy of your free credit report. Other options include a free "credit freeze" as well as a paid option for a "credit lock." You can discuss these with the bureaus directly to see what the best fit is for your situation.



• Equifax: 1-800-525-6285 or www.equifax.com



• Experian: 1-888-397-3742 or www.experian.com



• TransUnion: 1-800-680-7289 or www.transunion.com




Be sure to take notes on these interactions with the bureaus. If you download this checklist via the form above, it provides space for notetaking.






Identity Theft Protection Step 7: File a report with local police




A police report will lend credibility to your case when dealing with creditors who may require proof of criminal activity in order to initiate the reimbursement.
Make sure to take notes and write down the police report number!






Identity Theft Protection Step 8: Report the criminal activity to the Federal Trade Commission (FTC)
Call 1-877-ID-THEFT (1-877-438-4338) or visit https://www.identitytheft.gov




Identity Theft Protection Step 9: Report the fraud to the Arizona Attorney General's Office






Here's the link to File a Consumer Complaint | Arizona Attorney General (azag.gov)











Identity Theft Protection Step 10: Continue to Monitor Your Account


Even after the fraud has been resolved, this is a key step. Set up account alerts as well as two-factor authentication within Online Banking. You can also turn on a free feature within online banking that will show daily credit score updates and monitoring. Read more about Free Credit Score here. A close eye will help prevent these things from happening in the future - plus, you can research identity theft protection services or an identity theft monitoring service if that sounds like something you're interested in. (These can also be called credit monitoring services or identity theft protection companies, but many services come with a fee!)

One of the top money scams recently is called Card Cracking. If you're a victim of card cracking, contact us right away! And If you have kids, it's a great idea to teach them how to protect themselves and their financial futures from identity theft. Get them started on these educational and fun free online games for kids.




Always know two things: You can contact us if you need any further assistance, and we have tons of other resources we'd love to share with you. Visit our Resource Center and filter by topic or content type to find just what you need.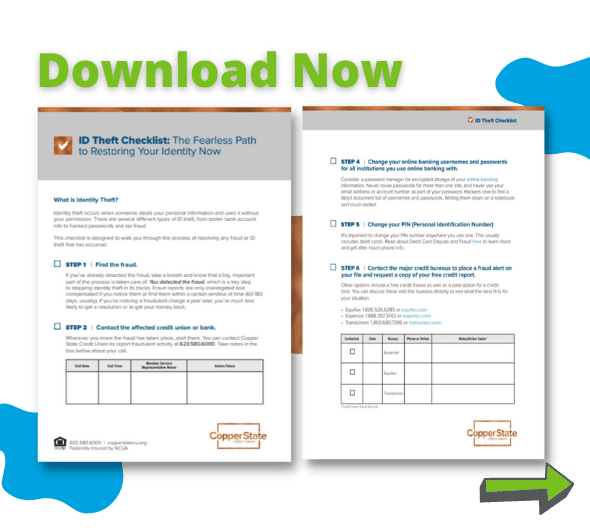 Sources:
ftc.gov
azag.gov
identitytheft.gov
This article is intended to be a general resource only and is not intended to be nor does it constitute legal advice. Any recommendations are based on opinion only. Rates, terms and conditions are subject to change and may vary based on creditworthiness, qualifications, and collateral conditions. All loans subject to approval.