Meet Our 2022 Financial Scholarship Winners!
Copper State Credit Union is dedicated to not only serving the needs of our members but also the communities we serve. We believe it is our responsibility to give back to our communities and that includes helping students right here where we live and work - making a difference for our neighbors. The first and primary of our core values is Family -- our Copper State Credit Union family of employees, the member-families we serve, and the families in our communities. To that end, we pledged $5000 in scholarship funds to 5 deserving individuals pursuing higher education this fall.
Scholarship Requirements
Students who wanted to receive the financial scholarship had to:
1. Have a minimum 3.0 GPA and be accepted/enrolled in higher education.
2. Complete our scholarship application and obtain 2 letters of recommendation.
3. Complete a Banzai Teen or Banzai Plus course (3-5 hours). These simulation games share the experience of:
the double-entry accounting method of budgeting
lifelike ups and downs of being financially independent
managing income
fielding unexpected expenses
saving up for a goal
Meet Our Financial Scholarship Winners
1. Julie (Phoenix, AZ)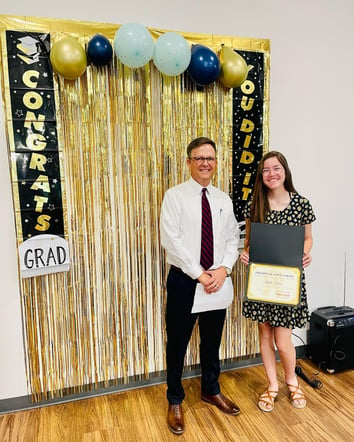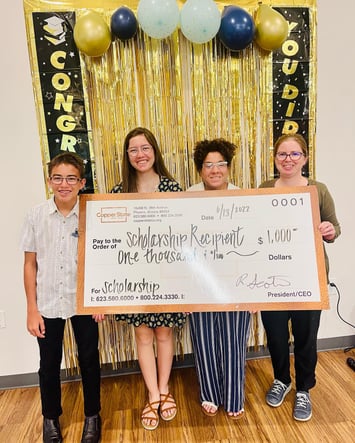 Pictured: Julie with Copper State CU President/CEO Robb Scott (left) and with guests (right)
Julie graduated with Gold Level GPA and was a participant and leader in several organizations, including HOSA future health professionals, marching band, theater, and NHS. In addition, she completed a pharmacy technician certification and held a part time job while being a full time high school student. She looks forward to majoring in Biochemistry at Brigham Young University in Hawaii, and then continuing on to pharmacy school. Her goal is to make an impact on her community wherever she goes.
From the Banzai courses, she said she enjoyed developing her critical thinking skills as she made the best financial decisions throughout the course, and will now be able to apply them to her life.
2. Nailin (Phoenix, AZ)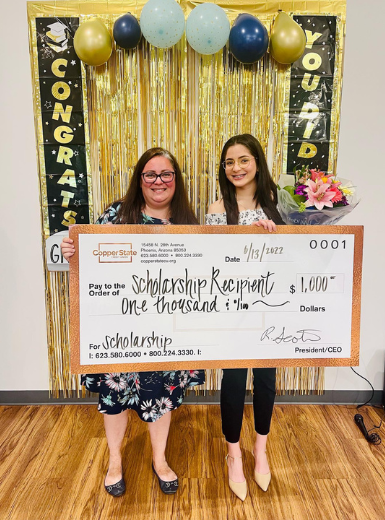 Pictured: Nailin (Right) with Assistant Branch Manager Marin
Nailin will be attending GCU to study Business Science in Risk Management after having been a volunteer and intern in several organizations, as well as being the current president of FBLA at her high school. Her dedication to credit unions and specifically the risk management side is exceptional. She's already reached out to several credit unions to begin entry level employment while attending school in the fall.
Since completing her Banzai courses, Nailin has been budgeting for herself each month, saving at least 10% of every paycheck. She has even set her first long-term goal and is saving up to buy a home by the year 2032.
3. Jared (Anthem, AZ)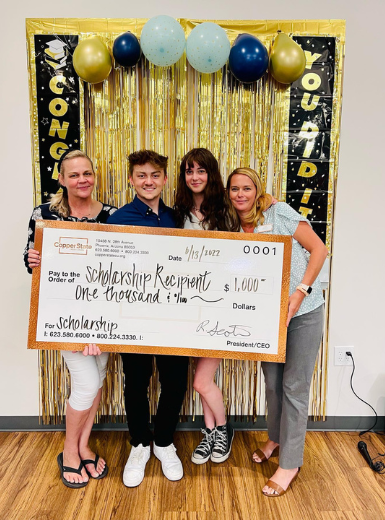 Pictured: Jared with guests and Copper State CU Branch Manager Christina
Jared is looking forward to studying Mechanical Propulsion Engineering at Embry Riddle Aeronautical University in the fall. He enjoys a variety of extracurricular activities including baseball, karate, and NHS – completing several community service projects for NHS. Regarding his future, he stated in his application, "Imagine if Henry Ford would have planned and engineered for sustainability with the combustible engine when the auto industry was in its infancy rather than "hitting the gas" with carbon emissions? The Space Industry has a chance now, as it is in its infancy, to change course…"
One thing he learned from the Banzai course was that unexpected expenses will come up in life, and that you need to have a plan in place to pay for these items.
4. Jared (Surprise, AZ)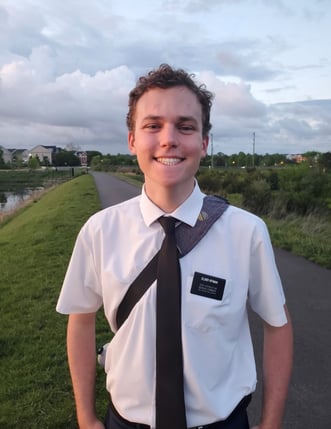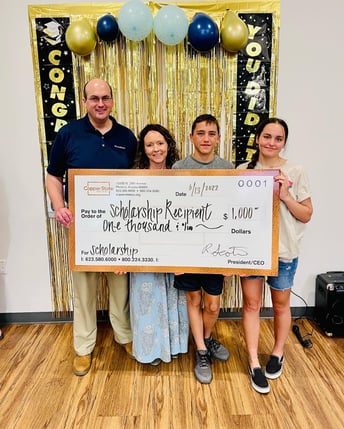 Pictured: Jared (left) and family (right) accepting his award.
Jared is excited to study Economics this fall at Eastern Arizona College. He graduated with Honors and is an Eagle Scout, Young Men's organization President, and participated in concert, drama, and community service throughout his high school career. It's important to him to acquire as little debt as possible over the next four years. He has worked towards this by saving 80% of earnings from his income at his part time job over two years. He also participated in a full-time service mission in Virginia for two years. He shared, "I appreciated having the chance to work through real-life scenarios and make decisions gave me the confidence that I do know enough to be in charge of my finances."
5. Talon (Payson, AZ)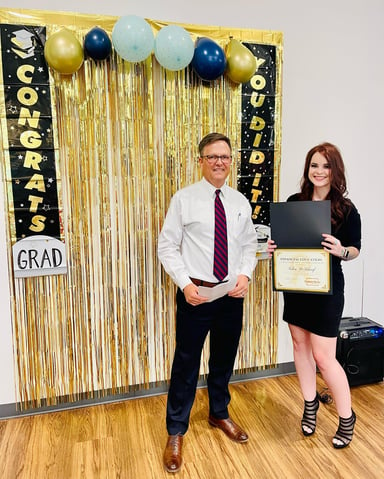 Pictured: President/CEO Robb Scott and Payson Branch Manager Elizabeth presenting Talon's scholarship award
Talon is on track to earn his Associate's degree in General Studies – Science from Gila Community College within 1 year of graduating high school. One of his goals, after 4 years in DECA, is to pursue business marketing and serve the community of Payson by helping to grow and develop local businesses in the area. Talon enjoyed learned the double-entry method of budgeting during the Banzai course and how it helped to anticipate recurring expenses as well as prepare for unanticipated expenses. He also was able to apply this knowledge to help with the costs associated with his first Copper State Credit Union auto loan.
Learn more about who we are as a local credit union or become a member today!
Already bogged down with student loan debt or other debt? Here are two highly effective debt payoff / debt relief solutions that do not involve debt consolidation loans or debt settlement companies. In fact, we recommend you stay far away from those!
This article is intended to be a general resource only and is not intended to be nor does it constitute legal advice. Any recommendations are based on opinion only.