The Savvy Millennial's Quick Guide to Save Money & Track Spending
Tap to pay credit cards and phone apps with scan payment options allow me to spend money quickly, easily, and without a hassle… which means saving money is a lot harder than it should be. But I don't want to give up all those small delights [hello, pumpkin spice latte] that make life worth living. So, I set out to find the ways to make spending tracker apps and other financial tracking tools work in my favor.
One place I started was with a free budgeting template. After I entered my net income, I found that I could maintain my current lifestyle and still save a little bit money, which is awesome. But I also know there are a lot of money-saving options out there just waiting to be found; and I wanted to think outside the box instead of just cancelling my Hulu subscription in the name of saving! This may not be an ultimate budget plan, but it got me some results in the savings department without taking away from the spending money I want. Stay tuned for my top four tips to guide you down the path to save money and track spending like a pro.
Tip #1: Automate the Save & Follow This Net Income Rule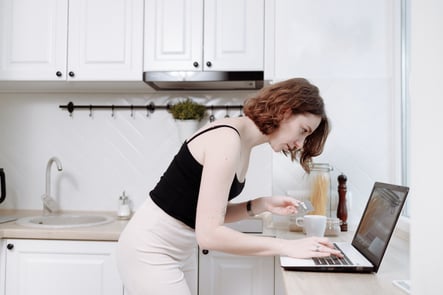 One of the things I discovered after joining an Arizona credit union is that online banking has evolved. Now, it's easy to make transfers, set up automated payments, track spending, and check balances before swiping my debit card. Here's what I found that worked for me:
By opening a checking and savings account at a Copper State CU branch in Phoenix, I was able to set up an automatic transfer each payday to make sure 10% of my net income went to my savings account. Then, I found the setting within my online banking dashboard that allowed me to 'hide' that particular savings account from view. I clicked the settings wheel on my dashboard and 'unchecked' the savings account I wanted to hide. I know it's hard to believe, but that simple adjustment taught me how to stop spending the money in my savings account – simply because I didn't see it there.
The credit union also provides an option within online banking & their app to set up text and email notifications. I particularly found these three notifications helpful:
Daily balance alert (text)
Debit card purchase alert (text) helped me to track spending
Direct deposit notification (email)
Daily balance alert for my checking account keeps me from accidentally spending more than my balance. I used to get the occasional overdraft charge because I didn't know how much money was in my account and I was too lazy to open the app before making a purchase. I like the debit card purchase alert as well, that way I know immediately if a fraudulent purchase was attempted. The email about direct deposit is helpful for me because that lets me know I'm able to pay my big bills because the direct deposit has landed in my account.
Tip #2: Track Spending – It's App O'clock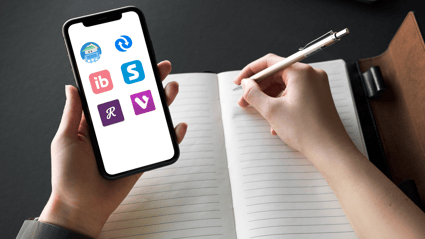 This process has taught me that some of the best apps to track spending can also make me money. These are apps that offer cash back, coupons, and rewards. Take a look at this list to try below:
Trim: Finds recurring charges rolling through your accounts that you may have forgotten about (Uhh, gym membership? Haven't gone in months.) Trim realizes you don't have time to go line by line on your statements and focuses on finding these spending leaks for you. This is one of the ultimate apps to track spending and save money.
Truebill: Another option for finding recurring expenses and helping you get them canceled. Note, both Trim & Truebill have a monthly (or yearly) fee.
iBotta: This money-saving app allows users to get cashback on specific online or in-store purchases by taking pictures of your receipts.
Shopkick: This California-based app outfit provides points or "kicks" that you can redeem for gift cards. Some of the major participants include Walmart, Target, and Home Goods, among others. Earn points by walking into stores, scanning barcodes, uploading receipts, using a linked card to shop online or in store, or by watching videos.
RetailMeNot: You can tap on this app and immediately receive in-store coupons. Scan them at the checkout station, and money comes off your bill.
Viggle: If you find yourself binge-watching shows at home or listening to music while driving, Viggle can make you a few bucks. Users earn rewards or can convert "Perk Points" into spendable money.
Tip #3: How to Own the Credit Card Game - Lower Your Interest Rates
Lowering my credit card interest rate was easier than I thought it would be. When I realized how much I spend on rent wasn't likely to change, and that most living expenses are fixed, I knew I had to go a different route. I asked myself, what does lower interest mean for my finances, and how can I achieve it? This is how I went about driving down the interest I pay on credit cards:
I called my current credit card companies and flat-out asked if I qualified for a lower credit card interest rate. I've had both my credit cards for a while, and 1 out of the 2 companies lowered my rate just because I called and asked them to. Seriously.
I called my credit union to see if they offered low interest credit cards, or an introductory APR of 0% for 12 months or more. I made sure to ask about Balance Transfer Fees before making this move, but found it was worth it in order to save a year (or more) worth of interest. Of course, I know I need to stick to my free budgeting template and my budget plan to avoid creating new debt during that time.
Tip #4: Track Spending More Easily by Eliminating These Top 2 Unnecessary Fees
Two fees I easily eliminated with a few tweaks:
Monthly Maintenance Bank Fees on Checking or Savings Accounts
You shouldn't have to pay just to keep your money in a financial institution like a credit union or bank. The monthly maintenance fee for a basic checking account at a big bank averages around $10 to $12 per month. Over the course of a year, that's costing you between $120-$150!
Know that Copper State Credit Union does not charge a monthly maintenance fee for their checking accounts or their savings accounts. Savings accounts have a low $5 minimum balance and earn regular dividends. You don't have to keep a minimum balance, or have a direct deposit to keep your checking account free. Just sign up for eStatements to avoid the Paper Statement Fee of $2/month on your checking account. Even if you choose to keep your mailed paper statement, you're only paying $24/year instead of up to $150!


Late Payment Fees
It can be tough to remember all your due dates, but help yourself and put reminders in your phone, planner, or calendar. Set up automatic payments, if you can. Even making the minimum payment on time is worlds better for your financial health and your credit score than even one late payment. Late payment fees can run from $25-$35 a pop. Even worse, just one recent late payment can cause as much as a 180-point drop to your FICO score. That's some scary stuff.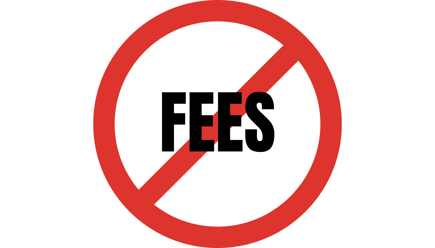 For me, I found that by joining a credit union and utilizing their online banking tools, low-interest credit cards, and maintenance fee-free accounts fit my financial goals perfectly. I started using some of the apps noted above and found that little extra money to be such a boost for my financial well-being. I hope it helps all of you soon-to-be savvy savers out there too.
This article is intended to be a general resource only and is not intended to be nor does it constitute legal advice. Any recommendations are based on opinion only.