7 Advantages of an (Actually) Free Checking Account With A Credit Union
This article was originally published on September 28, 2020. Updated May 20, 2021.
Opening a checking account is a big deal. Whether you already have a one and want to switch, or you've never had one - the right benefits at the right price (preferably $0) should be big factors in your decision. You'll definitely want to consider a credit union free checking account, and here's why.
As of December 2020, Arizona credit unions serve nearly 1.7 million members, according to CUNA State Trends. Compared to traditional banks, Arizona credit unions saved the average member household $174 over the year of 2020. Let's find out why so many people trust credit unions with their money.
1. Fewer and Lower Fees
Americans despise fees, and though they're sometimes a necessary evil, that's simply not the case when it comes to checking accounts. The last thing you should have to worry about is having your financial institution charge you for simply having an account! The average big bank fee will run you about $9 per month for a checking account, with some also handing out a fee for a savings account, if you don't meet certain criteria (like a minimum balance.)
According to CUNA, Arizona credit unions save their members an average of $78 a year compared to other financial institutions. One of these factors is due to the fewer and lower fees credit unions hand out compared to their big bank counterparts. In fact, the total financial benefit to Arizona members in 2020 was over $14 million dollars saved from fewer/lower fees alone. Three fees that are either eliminated or lowered at a credit union include: checking account minimum balance fee, account maintenance fee, and ATM fee. Copper State Credit Union offers a free checking account that eliminates all three of these. Read more below.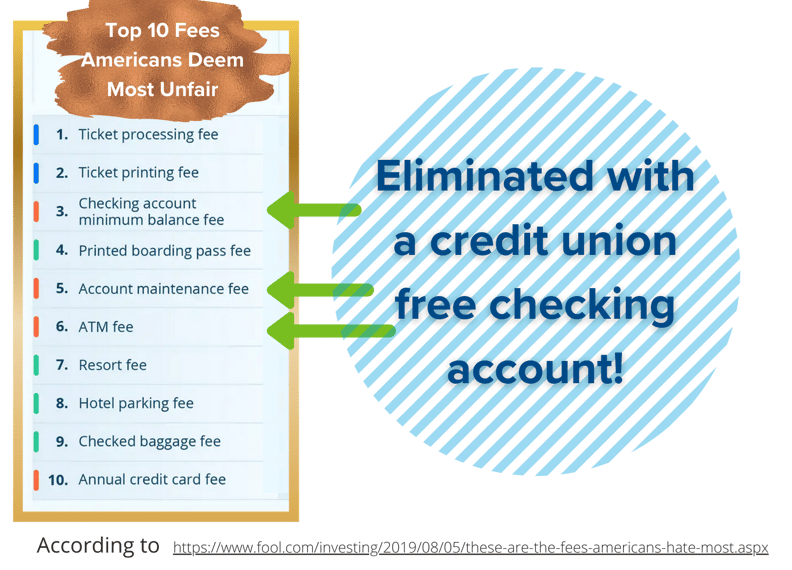 Copper State Credit Union offers members a maintenance fee-free CashBack Checking Account that does not require a minimum balance. In order to receive this benefit, membership with the credit union is required. Don't worry - it's easy to become a member. Simply live, work, or worship in Arizona and deposit $5 into membership savings account to become a member of Copper State Credit Union! CashBack Checking Accounts come with a free MastercardTM debit card, access to a network of free ATMs, and it's completely free as long as you enroll in eStatements. However, if you do prefer a paper statement mailed to you each month, there's a $2 paper statement fee for members age 18-64. Up to you! 😉
2. Better Interest Rates
A. Interest You Pay to Borrow
You want this interest rate on loans to be as low as possible, so that you're paying less for the convenience of borrowing money. Because credit unions are not-for-profit organizations that exist to serve their members, members of credit unions can end up spending a lot less money when they get a loan.1 CUNA's report compared average rates between Arizona credit unions and Arizona banks over the course of 2020 and found the comparisons almost always come out in favor of credit unions, particularly for auto loans, mortgage loans, and credit cards.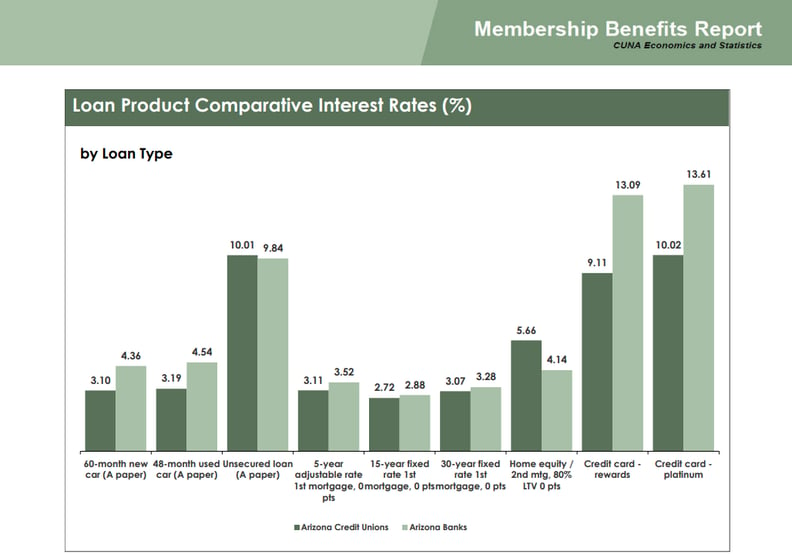 B. Interest (Dividends) You Earn On Deposits
You want this interest rate to be as high as possible, because it's determining how much money you make on your deposits. Again, since credit unions are member-owned cooperatives with no stockholders to rack up profits for - that means they prioritize saving (and earning) money for their members wherever possible. This means credit unions strive to provide higher dividends on savings accounts, IRAs, certificates, and money market accounts. Most credit unions even pay dividends on checking accounts2, which banks typically don't do at all. Another earning opportunity comes with earning cash back on debit purchases, which we'll discuss in our next section.
3. Cash Back Opportunities
One myth that persists about credit unions is that members do not acquire cash back with purchases made on their credit and debit cards. This is not true. At Copper State CU, even though we have free checking accounts, you also expect to receive excellent rewards on the purchases you make all the time. For example, with the Copper State CU Mastercard debit card, you can earn cash back on most transactions with their CardCash program.2 They also offer a variety of credit cards - from secured cards that help build credit, to consolidation cards that offer 0% APR intro periods, to awesome rewards cards for whatever fits your needs.
4. Invaluable Security and Federal Insurance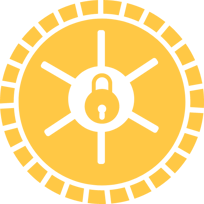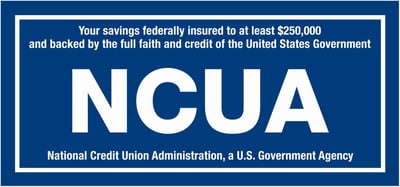 One of the biggest threats to businesses in the modern age is digital hacking. No business will be 100 percent immune from such hacks. However, credit unions implement excellent security measures to protect your identity and your assets. To begin, you can sign up for text and email alerts that will notify you if there is any suspicious-looking activity on your account. This helps with not only fraud, but also basic money management like keeping your free checking account balance on track. Copper State Credit Union also offers two-factor authentication within their online banking portal, which is one of the best methods for fraud and identity theft protection. You can also enroll in free credit score - a tool embedded in our online banking portal that provides free credit monitoring and daily score updates.
When it comes to insurance, there are some misconceptions about the differences between credit union and banks. Let us assure you - credit unions are fully insured by the NCUA - National Credit Union Association, a U.S. Government Agency who fully backs your deposits to at least $250,000. Banks are insured by a similar organization, the FDIC - Federal Deposit Insurance Corporation. Both organizations have the full protection of the U.S. Government so that American banks and credit unions can remain stable in times of economic hardship. Rest assured that in the event a financial crisis strikes, your funds will be safe.

5. All the tools and features you expect from a free checking account, and then some
Here's a non-exhaustive list of the features and tools available to you from most Arizona credit unions. Copper State CU provides all of these to members:
Wayyy More Free ATMs

55,000 Surcharge-Free ATMs through Allpoint ATM Network




Online Banking + Mobile App

Ours is easy to use and beautifully designed (in our non-biased opinion)


Shared Branching

Copper State CU partners with CO-OP Shared Branch Network to provide you access to your accounts through over 5,000 participating branch locations.




Direct Deposit

Paycheck sent directly to my checking account for free? Yes please. Find info here.




Automated Bill Pay

Paying all of your bills each month can be a chore. Bill Pay allows you to add payees and schedule payments with ease - either one-time or recurring.




Electronic Statements


Paper statements are a thing of the past. As mail theft is on the rise, people are turning to eStatements to keep their account info locked up behind an online banking username and password. Plus, with Copper State CU, enrolling in eStatements saves you $2 a month.


Electronic Transfers

Transferring money from your checking to your savings account OR to an account at another institution is easy.




Remote Check Deposit

Snap a photo of your check and deposit it into your account without stepping foot into a branch! You just need the app and these instructions.




And More!
6. Great Member Service
Credit unions care about their members and treat them as people, not numbers or potential profits. We're governed by a volunteer board of directors and volunteer supervisory committee. They ensure that we're always keeping our members' best interests at the forefront and providing excellent member service - both in the branches and online.
At credit unions, members are the shareholders, and when you open an account, you are buying a part of a cooperative. This results in much better customer service than what you will get elsewhere. You and the credit union are striving toward the same goal, which is why free checking accounts exist.
7. Community Engagement and Financial Education
Community Engagement
Copper State Credit Union is dedicated to strengthening Arizona families through financial empowerment. Credit unions across Arizona all have an arm around their communities, because our communities are what makes credit unions exist. Here are some examples of Copper State CU's outreaches:
Banzai - free financial education game simulations in 18 schools across Arizona, reaching over 1,200 students
Arizona Helping Hands - We partner with this nonprofit to help support families caring for children in foster care. Our biggest event of the year is the annual diaper drive.
Phoenix Children's Hospital - Each year we donate to Phoenix Children's to help families who are fighting childhood cancer.
We also volunteer with Future Business Leaders of America, Junior Achievement, RVN3 in Payson, and many other local events throughout the year..
Financial Education
Financial education is a priority for credit unions, which is why they'll likely offer a variety of webinars, articles, downloads, and much more for free, in addition to a free checking account. For example, if you wanted to create a monthly budget, you could download our free budget plan and get started right away. Or, you could download our free budgeting template. The Debt Relief Bundle is a great option if you're trying to tackle debt.
We have a whole library of financial calculators you can check out, as well as tons of articles, checklists, and other resources you can filter through by topic within our resource center. Finally, you should always check out our events page to view upcoming live webinars as well as on-demand webinars.

Whether you become a member of Copper State Credit Union or another Arizona credit union, we hope you take advantage of all the benefits a free checking account with a credit union has to offer.
Sources:
https://www.fool.com/investing/2019/08/05/these-are-the-fees-americans-hate-most.aspx https://www.cuna.org/uploadedFiles/Global/About_Credit_Unions/Arizona-MemberBenefitsD20(1).pdf
1All loans subject to approval. Rates, terms and conditions are subject to change and may vary based on creditworthiness, qualifications and collateral conditions.
2 Interest is paid to CashBack Checking Accounts for those that maintain an average daily balance of $5,000 or more. If interest is accrued, payment will be reflected in member's monthly statements.
3Terms and conditions apply, click here for details.
This article is intended to be a general resource only and is not intended to be nor does it constitute legal advice. Any recommendations are based on opinion only.