Family Finance Support: On Kids and New Ways to Start Quality Money Conversations
Avoid the eye rolls and engage your kids on the topic of money with these fun and unique ideas from Copper State Credit Union!
Family Finance Support Series: On Kids and New Ways to Start Quality Money Conversations
[Part 3 of 3]
Missed Parts 1 and 2? Check Out Family Finance Support: Newlywed and Courageous Thinking Ahead and Family Finance Support: Avoid One Thing When Talking Money With Your Partner
We've included several suggestions for different age groups below, use what works for you. 👍
Family Finance: Make It Real
Teaching financial literacy doesn't have to be a formal lesson! Experience is often the best teacher. Give your children that experience by involving them in what you're doing in a way that makes sense for their age.
For example, a trip to the grocery store is a great time for a child of any age to get some practice.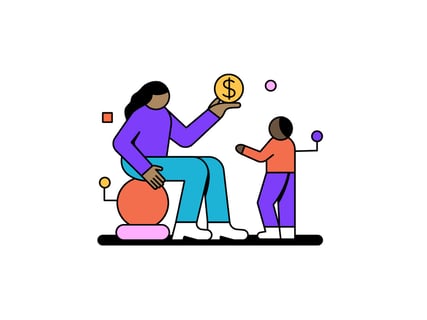 Pre-K and Early Elementary School: Explain that everything you're buying costs money. When you go to check out, let them swipe the card or hand the money over to the cashier and explain the transaction and how it relates to your family finances.
Elementary school: Give the child some money to be in charge of while shopping— maybe $2-$5. Explain to them that they can spend that money however they want while showing them tradeoffs—like getting multiple inexpensive things means you can't get one expensive item or vice versa.
High School Kids: Let your teen take control of the groceries for one trip. Give them a budget and a list of things that you need. From there, let them manage the money for that trip and the best way to divide it up. For an extra challenge, you may include that you need "snacks for lunches," but let them decide what exactly that means. If they buy too much or something too expensive, they won't have enough left over for the other essentials on the list.
The key with these examples is getting your kids used to thinking about a budget and considering how much things cost when making decisions regarding family finance. This can even extend to having conversations about everyday life. Instead of committing to a purchase immediately, talk aloud about if the item is really needed, if a cheaper alternative can be found, or if it's something worth the money. Discuss the price and how it may affect other areas of your budget if you spend in this category. A conversation as simple as this, once or twice a month, will speak volumes to your kids around the topic of family finance and money in general.
Speak Their Language (Games that teach family finance!)
Sometimes, if kids aren't open to hearing it from you, maybe they'll enjoy playing a game or simulation online to learn about finances.
Over a dozen high schools in Arizona take advantage of our partnership with Banzai and their free choose-your-own-adventure budget simulation courses. Real-life scenarios like having an income, paying for insurance, buying groceries, and dealing with unexpected expenses like a car battery dying will illustrate the importance of managing money. They also have a 'junior' version where kids manage their own lemonade stand!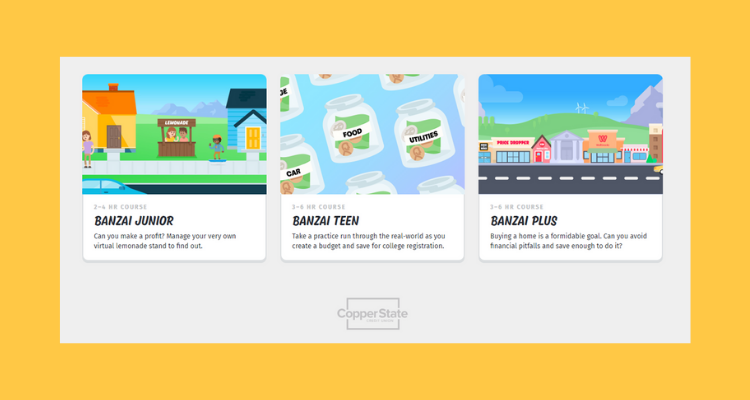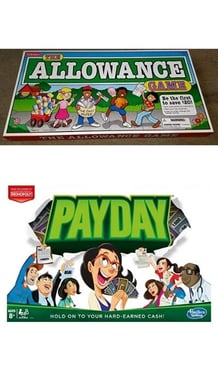 Or, if board games are more your thing, check out two of our favorites:
Ages 4-8: The Allowance Game
Ages 8-12: Payday
Family Finance Debate: Allowance
To learn how to manage money, children need some money to manage. Typically this money comes from an allowance or from doing small jobs for friends and neighbors.
As a first step, you'll have to decide how much the allowance should be and whether it should be a reward linked to tasks completed, or not. Fair warning, both approaches are matters of heated debate, so it's worth doing some research and weighing what you're comfortable with.


Whatever you decide, remember that the overall goal is to use the allowance as a way of teaching how to create a budget plan and live by it.
One popular suggestion, especially for younger children, is to illustrate the concept of budgeting by using three clear jars that represent current expenses, short-term savings, and long-term savings. If you want to encourage charitable giving, you can use a fourth jar, set a fixed percentage of the total, such as 10%, and encourage putting money in that jar as well. Separating cash into jars makes it easy to compare the results of spending and saving. It also introduces the concept of how to track spending and create a savings plan.
Helpful family finance tip: Pay allowance with smaller bills or coins to make the 'split' easier, or set up a change station in the home where children can swap out larger bills or coins for smaller ones.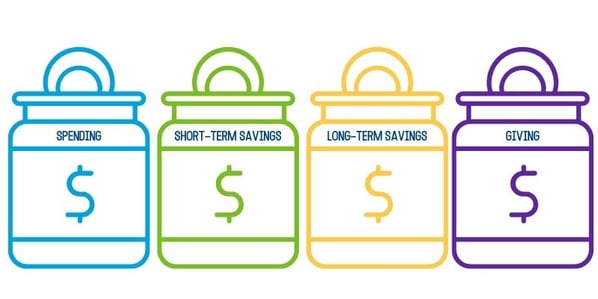 Spending vs. Saving
To help children decide how much should go into spending and how much into saving, start with the key concept that budgeting always involves making adjustments. The goal isn't to get it right the first time, but to come up with a workable allocation of money and to keep making adjustments and assessing family finances over time.

Kids' goals - for spending and saving - vary substantially, based on their age and concept of time, as well as the volume of cash they're working with.
Spending will be for the more day-to-day items, while a short term goal could be something they save up for like toys, sports equipment, electronic devices, special clothes, or other big-ticket items like taking a trip with a friend. Suggest saving for one item at a time and help them figure out how much they'll need to put away weekly reach their goal in a realistic amount of time. They'll likely discover for themselves that not all goals are worth the time and effort it takes to reach them!

Long-term goals can be vaguely defined, but some kids will want a more tangible goal than others. Saving for college means a lot for some 8-year-olds, while others would rather put a photo of their dream car up on the wall and be saving for that. You can offer an incentive to put money into long-term savings, if you like. Consider adding a quarter for every dollar your child puts in. Or whatever works for your family!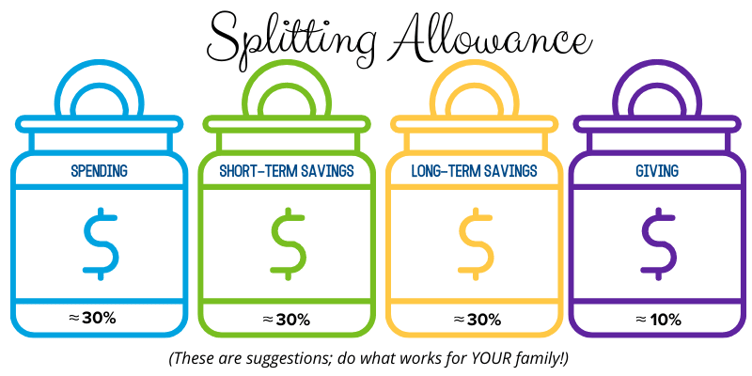 Spark Interest in Investing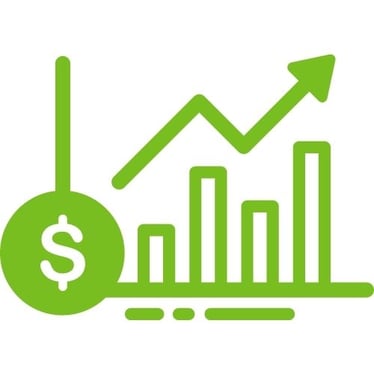 One option (though, we concur, is not for everyone) is to use common stocks to introduce your children to investing. Stocks are simple to understand and can be fun to track, especially if you start with companies that make products your children hold in high regard, like their favorite cereal, sports equipment, soft drink, or digital products. Once you show them how to track performance by going to the company website, or to general financial sites where they can find news stories about the company, it should be easy to get them involved.

There are several ways to make investing come alive. One is to set up a hypothetical family account, either online or on paper, and track the ups and downs of the portfolio you choose together. Another is to "sell" each child some of your own shares. For example, if you're planning to buy 200 shares of a particular company and you have two children, buy 202 and sell the extra shares to them at the price you paid. You can keep track of the children's shares in a separate register so they can follow what happens to their shares. If things don't go well, consider that a real life family finance lesson in the stock market!
Or, you can keep it hypothetical and go the gaming route with The Stock Exchange Game! Maybe, if we start talking about investments in a low-key, bite-sized format when our kids are still at home with us, it won't be as scary when they start to save their own nest egg for retirement.
Conclusion

There are so many new ways to start quality money conversations with your kids. The most important thing to remember is to be committed to your approach and know what your goals are for teaching family finance. Kids thrive on consistency and will (hopefully!) thank you later for the wisdom you imparted.😊