Don't have time to watch now? Send the link to your inbox:
Sustainable Investing & ESG: Why Now?
Tony D'Astice, Copper State Wealth Management:
Good morning and welcome. Today we're going to be talking about sustainable investing and ESG and what that really means. My name is Tony D'Astice and I work with Copper State Wealth Management, PFG Advisors, Securities America. I'm located at the Copper State Credit Union Offices. I cover the Bell Road, Anthem, Encanto and GCU branches. My associate, Anthony Rocha, covers the Arrowhead, Surprise, Goodyear and Payson offices.
Securities are offered through Securities America, member FINRA and SIPC. Advisory services are offered through PFG Advisors. Copper State Wealth Management, Copper State Credit Union, Securities America and PFG Advisors are separate entities. Investments are not NCUA insured, have no credit union guarantee and may lose value.

Our webinar today should run about 30 minutes. We have a special guest speaker from BlackRock Investments, Christian Venditti, who's a portfolio model specialist. And he's going to educate us this morning on sustainable investing.
Intro to Sustainable Investing


Christian V, BlackRock:
Thank you to everyone taking the time to join today's presentation! Like Tony said, my name's Christian Venditti. I'm a model specialist here at BlackRock, based in our Boston office. And today I'll share a bit about sustainability, which we believe to be the new standard for investing here at BlackRock.

First off, sustainability can be a broad term. And it's used in many different contexts. To some of you sustainability aligns more with your values and your worldview, to others it simply implies an ability to thrive in the long-run. What I've found though is that everyone these days is asking the question, does sustainability belong in an investment conversation? My hope for today is that you come away with the knowledge that sustainable investing is not just about the environment, but it's truly a new comprehensive standard for investing that we believe can provide better outcomes for investors over the long-term.

Sustainable investing started with the premise that the investing world may have been missing something. In 2015 Volkswagen became embroiled in a -now infamous- scandal. The company admitted that they cheated on emissions tests, which violated the US Clean Air Act. The CEO resigned, its stock plummeted, and the company lost almost a quarter of its market value in a single day.

Let me emphasize this point here. The Volkswagen example, it's not just a story about the company that harmed the environment, this is a story about how investors who own Volkswagen stock never saw this coming. Company reports, earning results and other measures of financial analysis weren't enough to protect stockholders from this scandal.

And it turns out that there were really a lot of different red flags before this all happened. Former executives dominated the supervisory board of Volkswagen with a lack of outside perspective. There were too many significant shareholders on their board, and of those that did not have a financial stake, often called independent directors, there were none with industry expertise, nor experts on managing risk either. So Volkswagen had a culture where sales teams were under immense pressure to hit their targets and to usher in a new era of diesel engines. And obviously you saw what happened.

When you boil it down, sustainable investing is just factoring in all of these different risks and opportunities that are revealed when you look across the ESG lens. And here at BlackRock, we genuinely believe that looking through this ESG lens, in addition to the traditional financial analysis that we do as well, ultimately leads to a better overall assessment of any investment decision that you make.
What is ESG?

What would I like to cover today? Number one, what is ESG? Number two, what are the risks that ESG analysis helps us uncover? And then on the flip side of that, number three, what are the opportunities that ESG analysis can help us capture? And then obviously number four, by the end of the call, I hope that we make the case for why sustainable investing really is a new standard for investing and here to stay.

As I mentioned, sustainable investing is defined as combining traditional investment approaches with environmental, social and governance insights. So E for environmental, S for social, and G for governance. And you can see on the next slide here, the E, S and G analysis looks at a number of different factors within each of the three pillars. Each of these three pillars are integral to the Volkswagen example, but can anyone guess which one perhaps is the most important to that Volkswagen story, E, S or G?

I know a lot of people would probably assume it's E for environmental. In fact, analysis from the environmental lens probably wouldn't have been able to detect a red flag since the company was reporting falsified data on its carbon emissions. The most critical lens here from an ESG perspective would've actually been G for governance, which looks at corporate leadership practices and behavior, and board quality and effectiveness as well. Volkswagen's failures were largely a result of poor management and poor oversight.

Analysis across E, S and G is really just expanding the scope of traditional financial analysis to reveal both the risk, as well as the opportunities. On the risk side, for example, companies exposed to increasingly frequent extreme weather events can face disruptions to their operations. Companies that produce poor quality products may face costs related to product recalls, litigation, and reduce customer loyalty.

And on the opportunity side, for example, companies that are developing products to improve water efficiency that may benefit from rising demand for such products due to worsening water scarcity. Another example would be companies investing in clean technology, such as electric vehicles or battery technology, that might benefit from favorable policies towards this space, as well as tailwinds from growing consumer demand as well.

Hopefully this slide makes intuitive sense, but I think that it does a really good job of illustrating what ESG and the ESG lens can bring to the table. You can see on the left hand side you're looking at traditional financial characteristics of two companies, Company A and Company B. And you can clearly see that they both have consistent profits. They both grow their dividend, and they both have high market share. So how can you really tell which one is the better investment?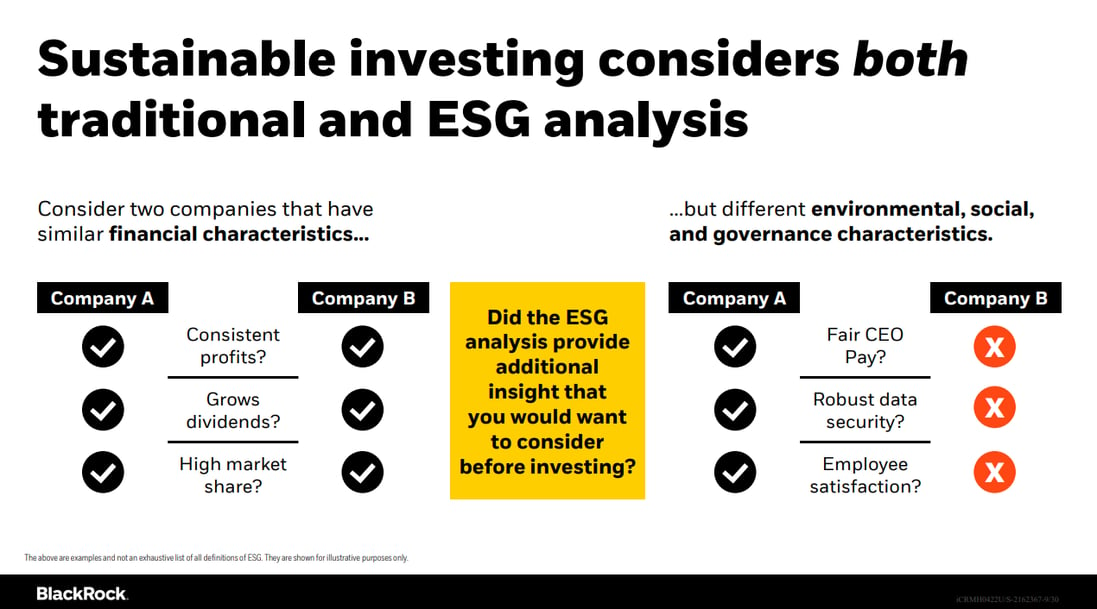 And that's where, on the right hand side, you can look at these same two companies through the ESG lens and see that Company A has fair CEO pay, robust data security, and employee satisfaction, while Company B does not. Again, sustainable investing isn't throwing out or ignoring traditional financial analysis out the window, but it's just using this ESG lens that can help supplement and enhance the traditional security analysis that folks have done for decades and decades now.
Case Study: Environmental

Just taking a closer look here at some real life examples in case studies of ESG. If we go to the first slide here, case study number one is environmental, and this is about Vale.
Vale is one of the largest mining companies in the world. They're the number one producer of nickel in the world. But in 2019 of January a dam actually collapsed, releasing three billion gallons of mine waste. And it killed almost 300 people as well. The financial analysts at the time were generally positive on Vale prior to this disaster. However, it also had an MSCI ESG rating of a single B, which is one of the lowest possible ESG ratings you can get. And due to a history of similar accidents and a lack of oversight, again, when this event occurred in January of 2019, despite the stock looking positive to financial analysts at the time, the warning signs were there. And at the end of the day, the dam collapsed. Vale stock price also collapsed, it fell by 24.5%, and it lost close to $19 billion in market capitalization in the process.

Environmental issues really aren't just a nice idea for a company to consider. The negative ramifications can either be felt over a long period of time or all of a sudden in the case of that Vale example. The hard data shows that we're facing an increasing number of crises related to the environment. This is evident from more than doubling of weather and climate related costs over the past several decades, even after adjusting for inflation. Companies that prioritize environmental factors can benefit from an improved bottom line over the long-term.
Case Study: Social


Another example that you might remember looking at social ESG case study is Equifax. In September of 2017, Equifax, which is the credit reporting agency, announced the largest data breach in US history, which had significant reputational and financial repercussions for the company. The breach ended up affecting, I think, 150 million people.

Similar to environmental issues, social issues can also have an impact on companies. While unfair treatment and discrimination of employees is simply wrong in itself, it also has a cost to businesses. Every year about two million American workers leave their jobs due to unfairness and discrimination. The estimated cost of replacing those employees is close to $64 billion. On the other hand, 70% said that if a company had a strong sustainability plan, it would affect their decision to stay with that company for the long-term. So practices related to the social issues like human capital management, and I would even argue company culture, can impact firm's long-term success as well.
Case Study: Governance


I'm going to move to one last example here that you may be less familiar with, but the scale is just so massive that it's a good illustration of why ESG analysis is so critical. A Brazilian food company called JBS is one of the largest meat packers in the world. To put it in perspective, if you're not familiar, in 2016 JBS made $20 billion more in food sales than Tyson Foods. So a massive, massive food company here. And the controlling shareholders of JBS paid bribes to at least 2,000 politicians and government officials in Brazil, including two presidents. In 2017 its holding company agreed to pay one of the biggest fines in global corporate history at $3.2 billion after admitting to these bribes.

Now at the moment of the scandal, MSCI ESG analysts were rating JBS is a CCC rated stock. Once again, the lowest ESG rating possible is CCC and that's what they were rated. At the time of this incident financial analysts were generally positive on the company, with 60% of analysts rating the stock as a buy. Again, this is not about global warming, it's not about which side of the political spectrum you fall on for ESG and sustainable investing, it's purely about the bottom line here. And that's why it's so important to incorporate ESG investment strategies within your portfolio, because it may have reduced or eliminated exposure to companies like we've talked about today, Volkswagen, JBS, Equifax, and Vale.

And to hit on those governance issues again. Governance issues like board structure and diversity, accounting practices and corporate ethics, can help investors assess the quality of controls and management at a company. For instance, companies that have higher gender diversity in their executive teams have shown a higher profitability than companies with poor gender diversity.
Opportunities ESG Captures


So far we've illustrated why ESG analysis is critical to risk management. But why do we believe that there's also tremendous opportunity in considering sustainability issues when investing as well? Consumption habits are changing. As a society we have more information at our fingertips than ever before. 90% of the world's data was created in the last few years, believe it or not, 90%. So the expanded access to information is driving consumer choices, including choices related to sustainability. Demand is growing for products and businesses that make concerted efforts to operate more sustainably. No matter what your personal view is, this demand can have a serious impact on a business.

And I think the numbers really back that up, and you can see that here on the screen. 73% of consumers say they would change their consumption habits to reduce their impact on the environment. And another 88% of consumers want brands to help them live sustainably. And according to a study by the NYU, sustainability marketed products grew five times faster than products that weren't marketed as sustainable in the consumer packaged goods market from 2013 to 2018.
And then in addition to broad sustainable practices, companies related to specific sustainable themes like clean energy may also be poised to grow over the long-term. Now our estimate projects that two trillion in new investments will be needed over the next decade to implement renewable energy targets that have been set globally by 2030. So much of this investment is needed in international and emerging market countries, as you can see on the next slide here.
Sustainability: The New Standard
Sustainability is the new standard for investing. It's clear as day. Companies are disclosing more information. Nearly 90% of S&P 500 companies are disclosing ESG information, information we simply didn't have nearly as much access to at the beginning of this decade. So we're seeing a number of large institutions like central banks, public pension funds, insurance firms, starting to recognize that sustainability risks are investment risks, and have been integrating ESG considerations into their investment processes.


One survey showed that 70% of institutional investors are already making and implementing ESG decisions. And lastly, in a test that was developed by behavioral scientists, Morningstar found that 72% of US population has expressed interest in sustainable investing. You're protecting on the downside with this overlay of risk management, you're capitalizing on the potential opportunity of this trend over the long-term. And again, I think you're doing good across E, S and G, those different lenses that you can look at, any sort of security you're potentially investing in.
Looking for more resources? Take a look at our reference guide on 2022 tax brackets!
Conclusion

Tony D'Astice, Copper State Wealth Management:
Thank you very much, Christian. I just want to let everyone know that if you want to learn about more about this opportunity with sustainable investing or any other investing, you can contact me at 602-375-7350. If you want to speak with Anthony Rocha he can be reached at 623-580-6009. You can reach out to either one of us. We can discuss any investment options that you're looking for, review your portfolios and see what we can do for you.
On to questions:

Question: What are the best companies to look into as a beginning investor?

Answer: As I went through those different case studies, if you're a beginning investor, and we have a number of different solutions here at BlackRock that focus on sustainability, but there's a rating agency called MSCI. And so they're really well known across the industry. And so they look at every single stock that you could potentially purchase and they give a rating to it. The case studies I went through, a lot of those for E, S and G were either single B or CCC rated, which is some of the lowest scores, if not the lowest score from an ESG standpoint.If you run an analysis on those AAA ESG-rated companies, AA, they tend to perform better over the long-term. We tend to suggest folks, focus on those AA and AAA rated ESG stocks.

Tony D'Astice, Copper State Wealth Management:
And those are stocks that are in your portfolios that we have available here! Our program's more packaged - it's more of a whole holistic program that we're going to look at and have a money manager work with. It doesn't look like we have any other questions! I thank you very much for joining us here today and giving us this very informative presentation.
Again, if you want to reach out to myself or Anthony Rocha to find about some more investment opportunities, please don't hesitate to give us a call.
Don't have time to watch now? Send the link to your inbox:
Securities offered through Securities America, Inc., Member Financial Industry Regulatory Authority and Securities Investor Protection Corporation (FINRA/SIPC) Advisory services offered through PFG Advisors. Copper State Wealth Management Services, Copper State Credit Union, Securities America, and PFG Advisors are separate entities. Securities America and its representatives do not provide tax or legal advice.
Click here for a copy of PFG Advisors' Relationship Summary (Form CRS)
Click here for a copy of Securities America, INC's Relationship Summary (Form CRS)
This article is intended to be a general resource only and is not intended to be nor does it constitute legal advice. Any recommendations are based on opinion only. Rates, terms and conditions are subject to change and may vary based on creditworthiness, qualifications, and collateral conditions. All loans subject to approval.