Is Now A Good Time To Buy A Car? 7 Timely Statistics + Advice
After the historic highs in the auto industry for 2021, we're starting to see a bit of a slowdown in auto sales and overall auto debt. We can't predict the future, but we can share the facts we know plus some advice if you do go car shopping this year.
1. The Clock Is Ticking on Low Auto Loan Rates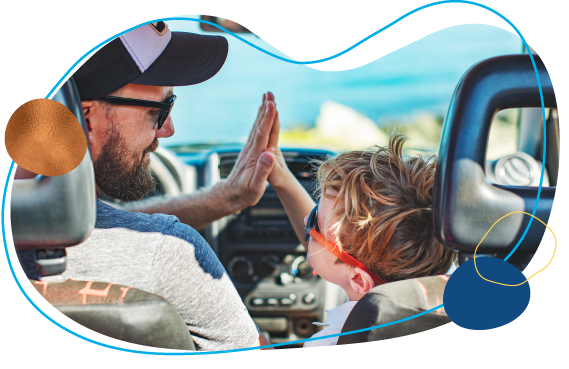 If you think you'll need a car within the next year or so, and you'll be financing at least part with an auto loan, we recommend pushing the start button sooner rather than later. Why?
As the federal reserve is hiking rates again and again, you'll start to see auto loan rates sneak higher as 2022 wears on. Right now, many credit unions are still saving their members money and haven't increased rates. But with the way things are going, it's only a matter of time before you're having to pay 1-2% more for your auto loan.
Still, despite changes in consumer behavior during the pandemic (such as staying home more) people didn't stop car buying! Over 100 million Americans have car loans, and overall auto debt increased by 6% in 2021, similar to increases we've seen in recent years.





2. Auto trade-in values are still high, but for a different reason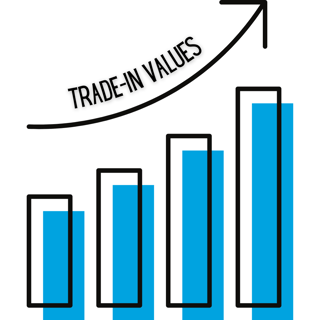 Because of supply chain issues lingering from the pandemic, and a shortage of labor, and a million other factors, trade-in values for vehicles last year were extremely high. Production was slower than usual and demand for cars was high, which made the value of your trade-in high as well.
However, in 2022, prices (and trade-in values) continue to go up. Why? Inflation.
You're seeing it most painfully at the gas pump and in grocery stores, but it's translating to car sales as well. This means that while you're paying more in both the used car market and new vehicle markets, the inflated values likely pass on to your trade-in as well. One figure showed that trade-in values at the end of 2021 were 88% higher than the year prior.

3. Electric and hybrid cars are [still] trending

Many electric and hybrid vehicles are beautifully designed and now more commonly seen on the road, thus leading to a rise in their popularity. Some are becoming more affordable as well, especially when you consider the $5.70 per gallon we're paying at the pump here in Arizona.
Globally, electric car sales doubled in 2021, reaching 6.6 million compared to 3 million sold in 2020.
But the argument is still made - by many - that we don't have the appropriate infrastructure to support a large exodus to hybrid and electric, and that it's cost-prohibitive to many groups. Consider that the average cost of a new all-electric vehicle is $56,437 - roughly $10,000 more than a gas vehicle.
So maybe hybrid is the way to go - best of both worlds?

4. Lower monthly payment does not mean you're getting a better deal on an auto loan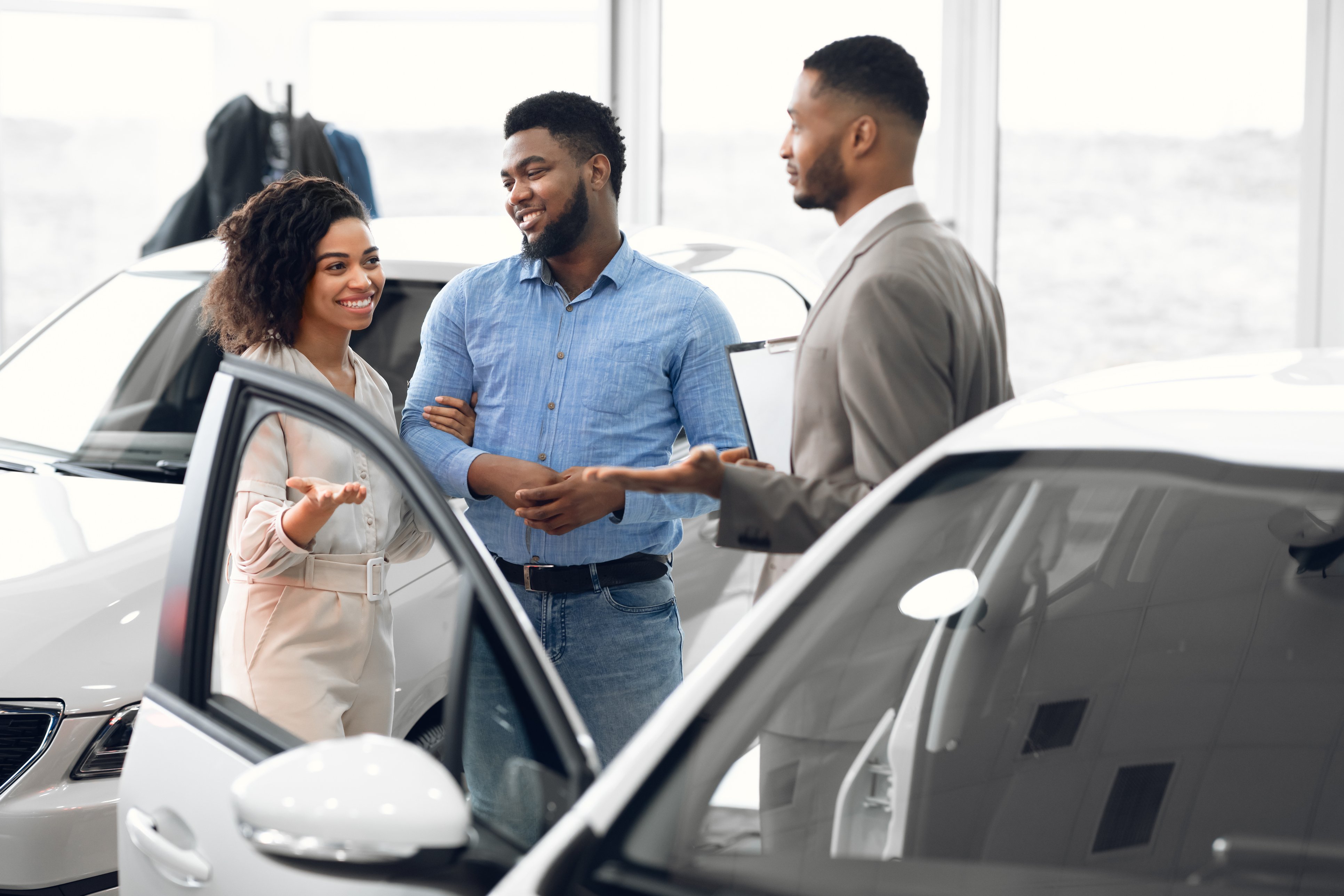 One of the biggest misconceptions about getting a car loan is that a lower monthly payment means you landed a great deal or got great car discounts. But our lending team shared that in order to lower your monthly payment, some dealers and/or lenders will extend the term of the loan and increase your interest rate.
This means that you'll end up paying more in interest overall, despite the lower out-of-pocket cost monthly. Not usually worth it! Especially because when you go to trade in the vehicle, it increases the likelihood that you'll have negative equity or owe more than it's worth, because most of your payment was going towards interest instead of the loan principal.

Instead of focusing on the monthly payment amount, shift focus to:
Total car price
Term Length in Months



5. Car financing is never the same as cash
Many car dealers offer what they call 'same as cash' financing. This means that you won't be paying interest during a promotional period. However, this often means that you'll end up paying interest on the total balance once that promotional period ends. Or, you'll have a higher rate tacked on, or you'll pay deferred (delayed) interest payments to make up for that promo period.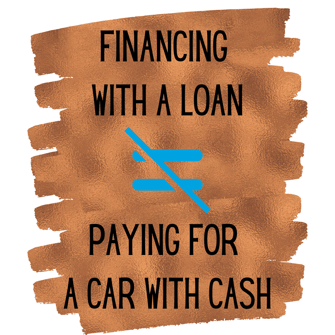 One way or another, you'll be paying.
Make sure to carefully investigate the loan terms so that you understand how much you'll actually be paying in interest once the promotional period is over.

If you're thinking of paying cash for the vehicle but still want to take advantage of rebate offers, listen up.
When it comes to rebate offers, many of them are good deals for the consumer but are tied to the financing. You could, in theory, finance the car to get the rebate and then pay the vehicle off in a few months. 😇
6. Balance your credit score, down payment, and rates
In order to be approved for a loan, your credit score must be high and flawless, right? Nope!
Surprisingly, you don't need to have a great credit score to get approved for an auto loan. Many credit unions are capable of working with people with low or no credit to help them get into a car.

Your credit score primarily plays a role in determining your interest rate. Someone with a perfect credit score will get a more favorable interest rate, while someone with a low score will get a higher rate. If your credit is below average you will likely need to put some cash down, but this will also help to lower the interest rate. It's a good idea to learn more about credit scoring and ranges using our credit score chart before you decide if now is a good time to buy a car.

If you have good or great credit, having a down payment helps during new car purchases but usually isn't required. The primary benefit of making a huge down payment is that it will lower your monthly payment and eliminate your need for GAP insurance. It will also decrease the amount of interest you pay over the life of the loan.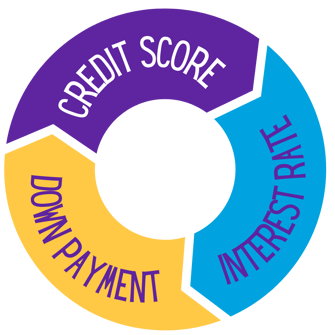 Always keep in mind your cash flow situation before putting down a large deposit – if you're only affecting your rate by a quarter percent, is it really worth giving up that liquid savings in cash and tying it up in a loan? Worth considering!

If you decide not to make a significant down payment, know that it's a really good idea to get GAP Insurance. This protects you in the case of a total loss if you owe more on your loan than the vehicle is worth. Anyone who puts less than 20% as a down payment on a vehicle should have GAP insurance. Just because the value is high right now doesn't mean that it always will be! When you drive off the lot you immediately lose a significant chunk of value as the car is no longer considered 'new.' Plus, taxes and fees make up at least 7% of that purchase price as well.

7. The Smart Way to Shop Around For Financing
Being prepared with a preapproval beforehand gives you a significant advantage when going to buy a car. It gives you a baseline for rate, monthly payment, and loan amount, plus gives you negotiating power with the dealer.
But maybe you're just asking "What Is An Auto Loan?" - we answer this question for you here.
Multiple pre-approvals won't hurt your credit as long as they're all done within 14 days of each other. The dealer is not always going to have the best rate, terms, and overall deal. You may discover that a credit union pre-approval will earn you an ideal rate, while big banks and car dealerships' rates may be higher.
Some lenders will only finance your vehicle if you buy it through an independent or franchise dealer, while others accept private party auto sale loans as well - like Copper State Credit Union. Another differentiating factor is whether the lender offers longer-term loans or not. (We offer 72 month and 84 month terms if your purchase amount is at least $15,000 or $25,000, respectively)

Another factor to consider is this: a slight change in interest rate (like a quarter percent) won't make much of a difference in your monthly payment. Many people find it's more convenient to stay with your current lender or one you've had prior experience with.
The automobile market is similar to the current housing market right now – so be ready to act fast. Limited inventory and increased demand are leading to quick sell cycles. For more info, make sure to check out our free, comprehensive eBook on negotiation tactics used in car buying.

Conclusion
So - Is now a good time to buy a car? Only you truly know, because you're the one who understands your personal financial situation and unique transportation needs.
New and used car purchases are trucking along despite the unique times we are living through, so it's good to have the inside knowledge on what's happening before you shop. Hopefully the stats and advice we've shared here will help guide you on your search! And our sister article What Car Should I Buy? Pros and Cons of Buying New vs Used should help if you're undecided on that topic.
Want to dabble with the numbers before you shop? Here's our Auto Loan Affordability calculator:


Rates, terms and conditions are subject to change and may vary based on creditworthiness, qualifications, and collateral conditions. All loans subject to approval. This article is intended to be a general resource only and is not intended to be nor does it constitute legal advice. Any recommendations are based on opinion only.
Source:
https://www.experian.com/blogs/ask-experian/research/auto-loan-debt-study/
https://www.statista.com/chart/26845/global-electric-car-sales/
https://www.thecarconnection.com/news/1134902_record-high-new-and-used-car-prices-continue-in-2022