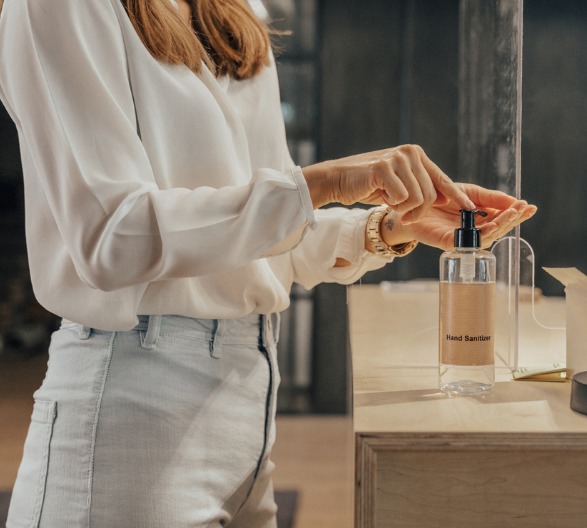 Member News And Resources.
COVID-19 (Coronavirus) Updates
Helpful Resources
Masks Required for All Branch Locations
In accordance with the latest CDC requirements, masks and/or face coverings are required by both staff and membership for any lobby visits or appointments. If you do not have a mask available, you will be directed to the drive thru or a mask will be provided for your scheduled appointment.
Branches are Now Open
We are so excited to welcome our members back! All branches are now open as of Tuesday, May 26, 2020. As the safety and wellness of our members and employees remains our top priority, we have implemented branch procedures to ensure we're abiding by COVID-19 business safety guidelines.

Branch Health and Safety Procedures
There will be a 6 member maximum in the branch at any given time.
Branch restrooms will be closed to the public until further notice to ensure safety.
All surfaces will be wiped down after every member visit.
Sanitation stations will be set up in all branches with wipes and hand sanitizer available.
All members, employees and guests are encouraged to wear face covers.
Markers will be placed in all waiting areas to allow for social distancing.
Barriers will be put in place to allow distance between employees and members.
Branch Appointments
If you need to visit a branch, we encourage you to schedule your appointment online. A team member will contact you within one business day to confirm your appointment information. Appointments can be made for the following:
Complete loan closings
Notary service
Safe deposit box access
Account maintenance
All branches have drive-thru service, ATM access and branch appointments available.
Anthem Branch
3428 W. Anthem Way
Anthem, AZ 85086
Schedule your appointment.
Arrowhead Branch
18559 N. 59th Avenue
Glendale, AZ 85308
Schedule your appointment.
Bell Branch
2400 W. Bell Road
Phoenix, AZ 85023
Schedule your appointment.
Encanto Branch
1640 W. Thomas Road
Phoenix, AZ 85015
Schedule your appointment.
GCU Branch
3300 W. Camelback Road
Phoenix, AZ 85017
Schedule your appointment.
*Closed Campus: Restricted*
Goodyear Branch
1270 N. Dysart Road
Goodyear, AZ 85395
Schedule your appointment.
Payson Branch
254 E. Highway 260
Payson, AZ 85541
Schedule your appointment.
Surprise Branch
15613 W. Bell Road
Surprise, AZ 85374
Schedule your appointment.

Hours of Operation

Monday-Thursday from 9:00 a.m. – 5:00 p.m.
Friday from 9:00 a.m. – 6:00 p.m.
Schedule your appointment online.
Online and Mobile Banking
We encourage members to be a part of the solution by taking advantage of Copper State Credit Union's full suite of online and mobile banking services. Access your account 24/7 through our mobile banking app from the convenience of your home or wherever you might be. It is fast, secure and free.
Check Balances
Transfer money
Pay bills
Deposit checks
Access online banking.
Download the mobile app.
Quick Access Guide
Below is a helpful guide to help you determine your needs and how to access:
What I Need: Where To Go
Account Balances: ATMs / Online / Mobile App / Phone Banking
Cash Withdrawal: ATMs / Drive-Thru / Cash Back with Debit Card
Check Deposit: ATMs* / Drive-Thru / Mobile Deposit / Night Deposit
New Loan: Online / Phone: 623.580.6000
Membership Application: Online / Phone: 623.580.6000
Loan Payment: Drive -Thru / Online Banking / Mobile App / Phone
Debit Card Services (new card, lost/stolen card): Phone: 623.580.6000
Credit Card Services: Phone: 800.558.3424
Wires: Phone 623.580.6000 / By Appointment
First Mortgage Needs: Phone: 602.375.7300 / By Appointment
General Information: Phone: 623.580.6000

*The Bell branch ATM does not accept check deposits.
Financial Assistance
As a credit union, we are dedicated to helping our members throughout their daily lives, including times of unexpected need. If you are experiencing financial hardship or other service needs as a result of COVID-19, our team is here to help. Contact us here.

We will continue to monitor the situation as it develops and evaluate additional measures to support our members and community.
Please be aware of coronavirus scams. The Federal Trade Commission recommends these tips to avoid scams:
Don't click on links from sources you don't know. They could download viruses onto your computer or device.
Watch for emails claiming to be from the Centers for Disease Control and Prevention (CDC) or experts saying that have information about the virus. For the most up-to-date information about the Coronavirus, visit the Centers for Disease Control and Prevention (CDC) and the World Health Organization (WHO).
Ignore online offers for vaccinations. There currently are no vaccines, pills, potions, lotions, lozenges or other prescription or over-the-counter products available to treat or cure COVID-19 — online or in stores.
Do your homework when it comes to donations, whether through charities or crowdfunding sites. Don't let anyone rush you into making a donation. If someone wants donations in cash, by gift card, or by wiring money, don't do it.
Health & Safety of Our Members and Employees
We are closely following recommendations for businesses from the U.S. Centers for Disease Control and Prevention as well as state and local officials. Steps that we are taking include:
Sanitation and Cleanliness - Routine cleaning is being performed at all branches which includes cleaning of frequently touched surfaces.
Hand-Washing Hygiene - We are reinforcing frequent and thorough hand-washing hygiene for all employees.
Employee Health - All employees that experience any flu-like symptoms must stay home and take advantage of our paid time off policy.
Members are encouraged to take advantage of online banking and the mobile app for 24/7 account access and to:
Deposit checks
Make loan payments
Transfer funds
We are committed to our members and employees to do all that we can to prevent the spread of COVID-19.